The Henry Jones Art Hotel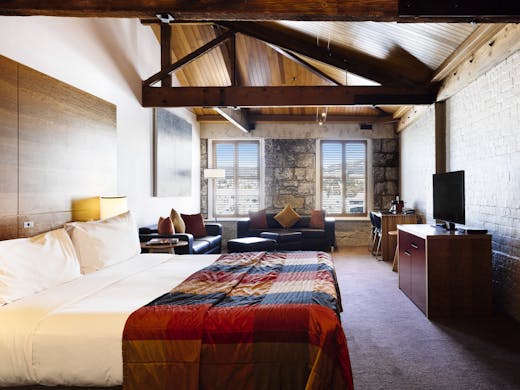 The Verdict
If you haven't been to Hobart lately, or at the very least planned a trip down there to see the sights, what's exactly are you waiting for?
Tourism in Tasmania is absolutely booming, and Victorians are heading down south in droves. Whether it's to check out the sites of the island, like Cradle Mountain, Wineglass Bay, Bruny Island, or even Mona, there's just a ridiculous amount of things to do in Tasmania.
And if you're looking for a classy joint to stay while you base yourself in Hobart, look no further than the recently refurbished The Henry Jones Art Hotel.
Built in the early 2000s in the former Henry Jones IXL jam factory, The Henry Jones has been a staple of Hobart's accommodation scene for what seems like forever.
Each of the 52 rooms and 4 suites in the hotel have received upgrades, including new carpet, plaster and paint, windows and shutters, lighting, tiling, giant TVs have been added, super king sized beds, and gas fireplaces. They've spent a ridiculous amount of money on the joint to make sure you get the best stay possible.
If you're tuckered out from seeing the sights and want to stick around home base, there are a couple of Hobart's best restaurants right at your doorstep.
Landscape Restaurant & Grill is a premium spot to grab dinner at with meals cooked on their wood-fired Asado grill or hit up the ever-changing menu at Peacock And Jones for something a bit more laid back, but no less delicious.
Also, it's called an "Art Hotel" for a reason with more than 400 artworks by local Tasmanian artists adorning walls throughout the hotel—you'll even find them in the rooms. And the best bit is, they're all for sale.
The group behind The Henry Jones also run the adjacent Macq01, and Saffire in Coles Bay.
Image credit: Supplied
---