The Lame Duck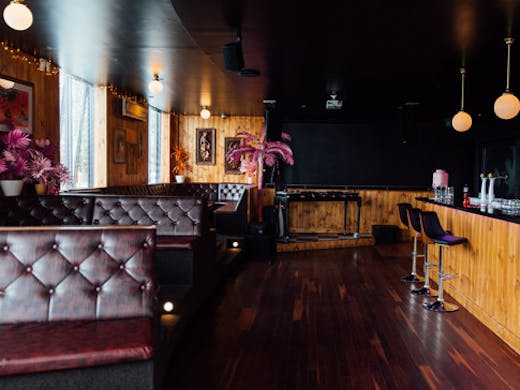 The Verdict
The Lame Duck is everything you've ever wanted from of a 70s-themed disco dive bar: wood panelling, Billy Bass singing fish, hot pink palm trees, and a Cher shrine. Enough said.
Created by hospitality veterans Samantha Sleigh and Letitia Lillis, The Lame Duck works as an after-work cocktail spot or a late-night destination for those ready to tear it up.
Regardless of your intentions, we suggest you start the evening off with the signature drink, The (Lame) Fluffy Duck, which is a gin and Aperol sour that will take the edge off nicely. You can then move on to their Mezcal Sunrise, which is a dangerous (but delicious) take on a Tequila Sunrise. And if you're feeling particularly festive, give the Pina-rita a try—a weird but satisfying combo.
Even though the drinks might be pretty spot-on, the music is what'll keep things moving at The Lame Duck (and probably the reason you're going in the first place). Resident DJs JNETT and Capt'n Shergz from Fox FM have plenty of disco, funk, and soul classics for you, peppered with plenty of Cher of course.
If you need to refuel, there are several snacks to choose from like baked camembert fondue, cocktail onions, plus hot dogs and toasties, which sound like an absolute dream when you're busily boogying all night long.
Last but not least, we should probably mention that The Lame Duck has a 4 am license. That's right—there ain't no party like a Lame Duck disco party, because a Lame Duck disco party don't stop until 4 am. That doesn't sound lame at all.
Image credit: Annika Kafcaloudis
---