The Mayfair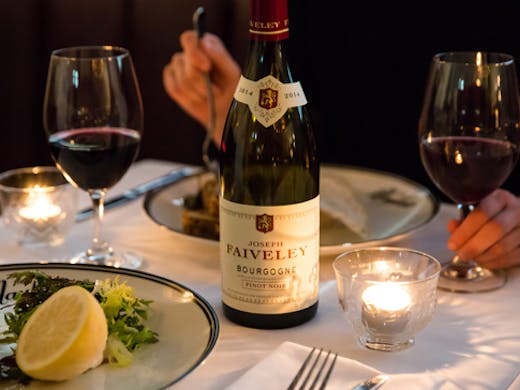 The Verdict
Melbourne's theatre district just got a dose of late-night 1930s charm. Introducing The Mayfair, a swanky new supper club, courtesy of David Mackintosh, with new partner Joe Jones (from Romeo Lane) and chef Ron O'Bryan (ex Church St's Enoteca and The Vine).
You'll find it tucked down at the base of the Sofitel, near the golden roundabout with its circling Mazeratis and wide-eyed overnighters. But this place is a world away from new money glitz. Think more old-money ritz: a bona fide 1930s brasserie bunker and supper club. The sort of place you swing by at midnight, when the brandy's wearing off, to wolf down a plate of steak and eggs or a decadent three-cheese omelette.
The space has something of a Churchill bunker about it, inspired by the old New York Stork Club. Curved concrete ceilings, a vintage gramophone perched up on the bar, all dark timber and club leather booths. You half expect to see Fred Astaire tap dancing through the lobby. Venetian blinds block the view of the Sofitel forecourt, so the time warp illusion is pretty strong.
Liquor comes served in glass decanters, and there is much liquor to go round. Late night cheese and whisky trolleys do the rounds after 10pm, and naturally there's enough Perrier-Jouët champagne going around to sink the Spanish Armada.
Food-wise, you can expect French-leaning brasserie fare...with a bit of a twist. Oysters, shucked to order. Dry-aged steak tartar. Suckling pig sausage rolls. A 450g Gippsland New York strip, served on the bone with a netted lemon and the richest herb butter you've ever had in your life.
Make sure you save room for sweets. A. A. Gill himself would have been happy with this sweet snog of Crème Brûlée, served with an orange and pistachio tart.
Decadent, brassy and bold. Put it this way: they didn't call it 'The Mayfair' because of its quinoa salads.
Image credit: Jenna Fahey-White
---