The Merrywell Bar & Dining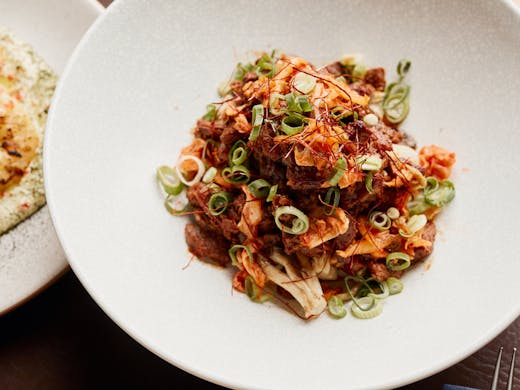 The verdict
First things first, you have to understand there's a big difference between Merrywell Burger Bar and Merrywell Bar & Dining. Kind of like the difference between Dandenong and The Dandenongs. One is the award-winning downstairs burger bar—all pints, punters and slightly pink patties. And that hasn't changed.
What has changed is the upstairs restaurant: Merrywell Bar & Dining. For ages, this place was basically a more sophisticated version of Merrywell Burger Bar. You could get smoked brisket and mac n' cheese balls, chef'd up American BBQ and ribs that made it difficult to get out of the chair.
Now it's different. Merrywell's new Chef De Cuisine, Kevin Chung, has teamed up with Daniel Wilson (of Huxtaburger fame) to create a banging, modern Australian menu. What else do you call a place that serves tuna tartare with tequila guac and kimchi-spiked Korean Bolognese? Pan-global? Yeah, let's go with that. It's a round-the-world ticket for your mouth.
"Modern versions of classics are the focus of the new menu," says Wilson. "The idea is that the dishes needed to match the vibrant new space - and a sharing menu seemed like the perfect fit for everyone to get stuck in and enjoy good food with friends or colleagues."
The décor up here has had a tjuz as well. It's more sophisticated and a little brighter than before, with a teaspoon of New York-design. Our favourite seats are either out on the balcony (if the weather's good) or tucked up by the fire with a couple of cocktails and the mandarin pavlova.
Which brings us to the food. The last thing you'd expect from Daniel Wilson is to steer a restaurant away from burgers, but he's definitely shooting for the moon here. Kick-off the night with 'Conversation Starters', maybe a plate of Beef Rendang spring rolls (delish) with sticky chilli dipping sauce, or Hainanese chicken rice paper rolls with ginger and crispy shallots (these are insanely good).
Next, order up a few bigger plates to share. We can recommend the crap out of the wood-grilled King prawns with macadamia hummus, and the Korean Bolognese: simmered for four hours and served up with giant rice noodles, tonnes of kimchi and delicate shimeji mushrooms.
If you're starving, ignore everyone and just hog a plate of the DIY snapper tacos with jalapeno slaw. There's also some cracking Black Angus steaks and a panko-crumbed schnitz on there, if you want to play it safe. It's generally best just to trust Wilson's genius—we were sceptical about 'Korean Bolognese' at first, but one mouthful and we were ready to follow Wilson into battle.
The wine list upstairs bats a lot deeper than the Merrywell Burger Bar, and pretty much everything is grown local. You've got by the glass options from the Mornington Peninsula, Yarra Valley and Beechworth, or go nuts with a Penfolds 'Bin 150' Shiraz for $185. The cocktails aren't the Mickey Mouse variety either—think New York classics with a cheeky Melbourne twist.
When we first heard The Merrywell was changing, we were worried it meant no more burgers. But the burgers are still there downstairs (and they're still damn good). Upstairs though is where things get interesting. We'll be back soon for another bit of that Bolognese...
---