The Orchard Prahran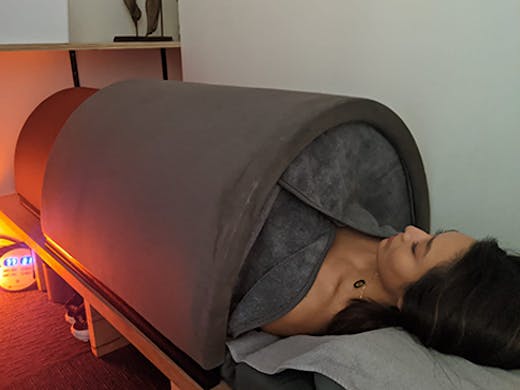 The Verdict
There's always a raft of new health trends but one that's really getting some serious love is Infrared Saunas, (they're quite literally so hot right now). Vastly different to their steam counterpart the Infrared Sauna emits heat directly onto your body via electromagnetic light as opposed to the stifling amount of steam from traditional saunas that engulf the entire room.

The Orchard Prahran sits above a health store just outside of Prahran Market, this tucked away little mecca of wellness is one the best places to experience the Infrared Sauna. It's a very meditative process, lying on your back your body is enclosed in a heated cylinder with your neck and head exposed to the fresh air.

The infrared heat purifies your skin and mimics the effects of exercise without any physical exertion resulting in the natural emission of toxins and an increase in blood flow which is great for cardiovascular, muscle and skin health and helps to improve sleep. The space at Orchard provides plenty of healing energy with lush plant life, crystal lights and ambient music throughout the session allowing you to rest easy and let your body do its thing.

Symee, who heads up the operation at Orchard described how quickly people slip into the addiction of Infrared Saunas, "It is very normal for us to see someone coming in for a trial session, falling in love with it and starting a weekly session and within a month it becomes two to three sessions per week," said Symee.
Alongside Infrared Sauna therapy The Orchard also offers a range of detoxifying treatments such as; Red Light Therapy, Hyperbaric Oxygen chambers, and Floating tanks. The combination of these treatments collectively is meant to provide a holistic and rounded method of healing to your body, giving it the equivalent of several hours of deep REM sleep (The level of sleep where your body heals and regenerates).
Image credit: supplied
---