The Peach Club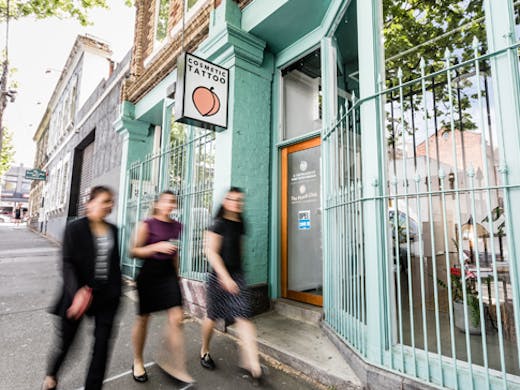 The Verdict
Want power brows that'd make Cara blush? Looking for a long-term solution to lip colour and lash length? Might be time to give cosmetic tattooing a try. It's not as scary as it sounds. Feather-touch brows and lip blush tattoos are pretty common now, and there's a place in Collingwood that specialises in quick, (relatively) pain-free treatments.
Its name is The Peach Club, and it's run by tattoo and cosmetic pro, Meg Baker. Meg's been in and around the tattoo and laser industry for over 7 years, so you're in good hands. She's also slightly OCD about brow shape, density and texture, which is a good thing—beauty therapists and surgeons are two professions where you really want that obsessive attention to detail.
There's a few services offered at the Peach Club. The main one is Microbladed brows, which involves carefully hand-tattooing hairs into your brow line, using feather-light micro-cuts. It doesn't feel like a regular tattoo: more like someone's dragging a tiny fork over your forehead.
Peach Club can also tattoo freckles on your nose or décolletage for a subtle, sun-kissed look, year-round. Natural lip blush tattoos, lash enhancements and eyeliner, even laser tattoo removal—they're a full-service boutique. You can check out the reviews on their FB site if you're nervous, and Meg is always free for a chat to run through the process.
It helps when the space is gorgeous too, an industrial oasis just off Peel St in Collingwood. You can pop in for a session, then nip round the corner to grab a latte at Proud Sprout #gainz.
Image credit: The Peach Club
---