The Pie Shop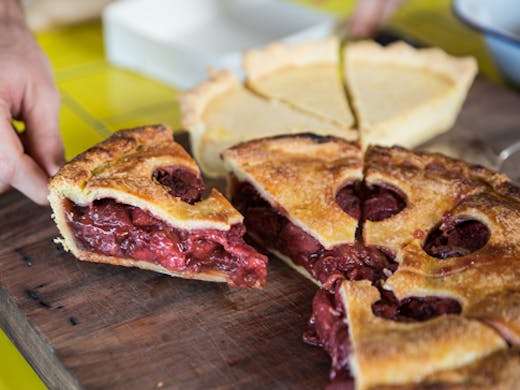 The Verdict
Melbourne's new boutique pie store has opened in Brunswick East, and it looks fair dinkum delicious. The Pie Shop (good name) is the latest brainchild from chefs Matt Wilkinson (Pope Joan) and Steve Rogers (Circa, MoVida), a dinky-di throwback that's serving a mix of sweet and savoury pies, plus a few must-have staples (think steamed dimmies, sodas and obligatory Snickers bars).
These aren't your standard Four N Twenty affair, although there's certainly nothing wrong with smashing the odd Four N Twenty when the occasion calls for it. These pies are chef-made from top-notch ingredients, not the miscellaneous gristly bits you either swallow and pray, or spit out with your eyes closed. The beef comes from Warialda, the turkey from Deutscher's Turkey Farm, and Alphington Rooftop Honey is supplying the premium bee-nectar.
Wilkinson and Rogers have taken these raw ingredients and fashioned a pretty ballsy pie menu. At the moment there are five savoury pies on offer: The Bruce (spag bol), The Allen (chunky beef and veg), The Shazza (caramelised onion and cauliflower cheese), The Daryl (curried turkey), and The Clancy (pumpkin, chard and halloumi). Kids can also get a 'Mini Bruce'—basically a fancy party pie with Bolognese inside. If that doesn't keep 'em happy in the back seat, we don't know what will.
For sweets, the boys are currently turning two epic combos: strawberry and balsamic, and honey and buttermilk. These are bigger pies (the sort cartoon characters used to steal from people's windowsills) and are sold by the slice. You can buy them as cold takeaways too; the shop just needs a day's notice.
Image credit: Jenna Fahey-White
---