The Riversleigh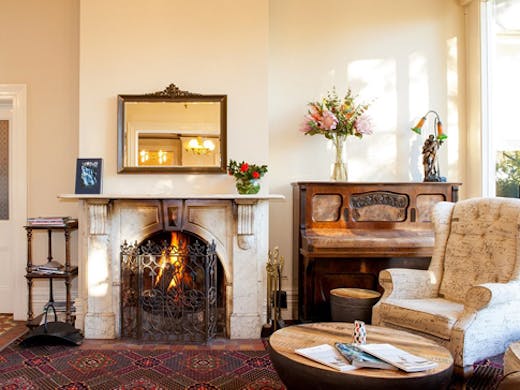 The Verdict
These days most people want their hotels to be chic, contemporary, zoom-zoom sort of establishments.
You know—Edison bulbs by the bed, geometric prints on the wall, possibly a pinball machine in the corner. But there's a lot to be said for old-school style and hospitality, especially on a cheeky regional Victorian getaway.
Presenting this place: The Riversleigh in Bairnsdale. It's technically Victoria's oldest boutique hotel, going strong since ye old 1884. And it's about as close as you can get to staying in Downton Abbey (minus Maggie Smith and all the sexual intrigue).
The Riversleigh went through a big refurb in 2013, so the rooms are lovely. You get big period windows, delicate etched glass, the original cast iron balcony, antique dressers and linens that make you feel like The Queen.
"When we bought the hotel there were 20 rooms, but we have now completed another two rooms giving us 22 rooms in total, including one fully self-contained apartment," new owner Rachel Bromage said.
Rachel and Adrian Bromage took over The Riversleigh in 2013, along with Rachel's father, Michael Banson. They've lurched it into the 21st century, and it's now recognised one of the best boutique hotels in the state.
Bairnsdale is about three hours from Melbourne, so it's definitely worth a couple of nights at The Riversleigh. You can use it as a jumping-off point to explore Paynesville and Lakes Entrance, or head up to Buchan Caves. Rachel and the team can suggest a few good local spots, if you're stuck for ideas.
Or you could just chill at The Riversleigh. It's right in the centre of town, and there's a cracking restaurant in the old stable nextdoor (it's called The Loft). Definitely spend at least one dinner here: the atmosphere is fantastic.
If you need us, we'll be in the library downstairs, feet up by the crackling fire and reading Jane Austen. Don't judge us.
PS. Keep an eye on the hotel's social pages. They're planning a huge calendar of events next year to celebrate The Riversleigh's 135th bday.
Image credit: The Riversleigh
---