The Rogue Squire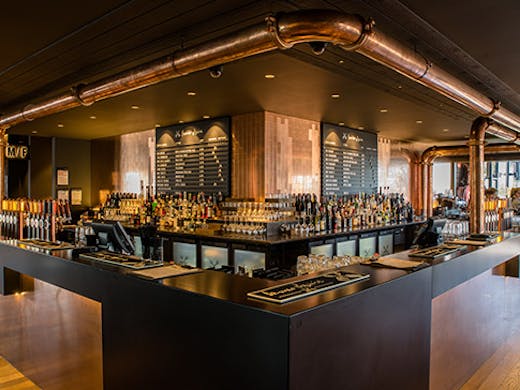 The Verdict
It was quite a shock seeing The Rogue Squire for the first time. It's sitting on a very famous corner spot—the old Wheeler's Hill Hotel, where 19-year-olds have been lining up for garage band gigs for decades (if it's any consolation, The Wheeler's pokies and sports bar still exists next door).
It turns out the location is no accident: the old publican battled three bandits here in 1900, as you do, and beer has been a part of Ferntree Gully Road since Fred Gessner opened a pub here in 1891.
The Rogue Squire is the ninth brewpub for the famous brand, and if you've seen their CBD digs, you'll have a pretty good idea of what to expect. Schmick matte-black surfaces, copper piping, a feature wall of LED glass bottles, plus an upstairs deck with views over the eastern ranges.
There are two levels at The Rogue Squire. Downstairs is more your sports bar, upstairs is the main dining room. There's all you classic James Squire brews on tap, of course, plus some really interesting stuff. These are the so-called 'Malt Shovel Brews'. Maybe The Interceptor Black IPA, or The Wreck Preservation Ale, crafted from a yeast they found in a 220-year-old bottle of shipwrecked beer.
Our pick? Now that the weather's warming up, it's gotta be the Swindler Tropical Pale Ale. Fruity and pineapple-y, it makes a great session beer, especially out on the north-facing deck. Pair that with chef Darren McKinlay's beer-battered fish and chips (made from the same brew), and salt n' vinegar seasoning.
The rest of the menu is pretty standard gastropub fare, but Darren has worked in beer wherever he can.
Is it the old Wheeler's? Definitely not. And in a way that's sad. But the locals seem to be enjoying something different, and the quality of the food (and the beer) has certainly improved. There's not a lot to eat out this way—apart from the famous Wheeler's Hill charcoal chicken—so it's good to see The Rogue Squire shaking things up.
We'll drink to that.
Image credit: James Squire
---
You May Also Like