The Shady Lady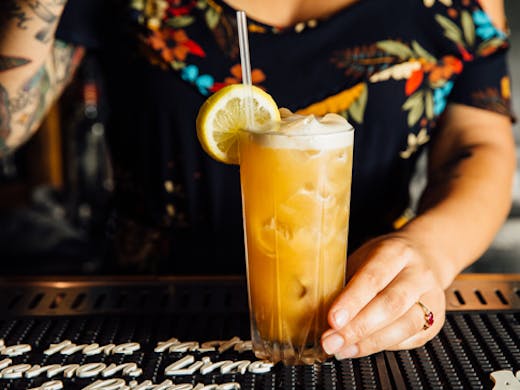 The Verdict
No-one's saying Fitzroy doesn't have the most buzzing bar scene in Melbourne, but it's kind of nice to see people doing something new (there's only so much blonde timber we can take).
Enter Shady Lady. An outrageously mega-kitsch, shabby-chic booze temple—the brainchild of co-owners MandyJo Reinier, Rosie and Georgina Maughan.
Right from the start, these ladies wanted their shady mistress to steer clear of the usual Fitzroy schtick. Which is why the place looks like The Room of Requirement meets your grandma's house (if your grandma served frozen cocktails and loved a bit of pink neon). There's gold-flower wallpaper in the bathrooms, bric-a-brac op-shop artwork, heavy drapes, 70s pendant lights and the sort of decorating touch that makes people use the word 'eclectic'.
It's also vegan-friendly, puppy-friendly, LGBTI-friendly and human-friendly.
Let's start with the cocktails, because you probably will. The Shady Lady isn't afraid to go retro on the drinks list. We're talking blend-to-order mojitos, garnished with mint, or pina coladas with obligatory tiny umbrellas. Even more unusual—they're slinging Furphy and picklebacks for $13 (a shot of whisky, chased with pickle brine). It's like some sort of time machine boilermaker—you half expect to see Bridget Jones' mum behind the bar, handing out the mini gherkins.
If your taste runs to more usual fare, The Shady Lady also has a top-notch range of tinnies (nice to see Tecate and Balter on there), plus a generic list of plonk (your basic reds, whites and bubbles—wine isn't the focus here).
One last thing, keep walking through the bar and you'll stumble on the beer garden, out back. Hands down one of the cutest beer gardens north of the Yarra.
If this is shady, we say bring it on.
Image credit: Annika Kafcaloudis
---