The Stables of Como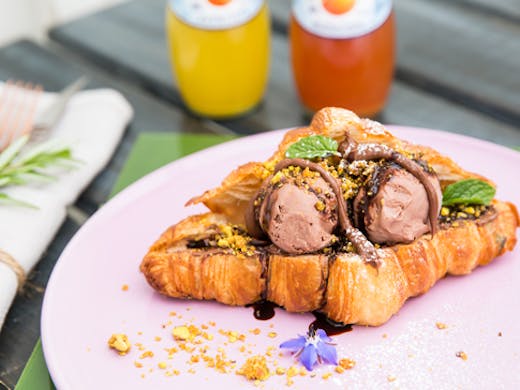 The Verdict
Quick—it's a beautiful summer's day and you're searching for brunch in South Yarra. Where do you go?
If you follow the herd, you'll probably end up down on Toorak Rd, sipping a latte at Drugstore Espresso. But if you're a clever little Vegemite, you'll hook a left on Como Avenue, and wander down to The Stables Of Como. AKA our new favourite summer hang.
Now for most Melbournians, Como House is synonymous with primary school excursions and distant memories of actors in period costume. Most of us don't realize there's a stunning cafe, restaurant and event space on the grounds...or that it's open to the public...or that it features a bloody Frosé stand out front.
Nevertheless, it's there. Tucked among gardens of lavender and shady oak trees. 'Hidden gem' gets used a lot, probably too much, but what the hell—it's a hidden gem.
The Stables itself is set inside a converted horse stable (makes sense). The cafe fit-out is classic French country—all rustic tables, homely details, cake stands (including vegan treats), distressed timber and high, white-painted beams. Outside you've got the historic courtyard, with sunny al fresco seating, Frosé and doughnut stands, even a dedicated dog bar where your pooch can tuck into some house-made puppy treats.
Let's talk food. Most of the produce for the cafe is grown right around the corner, in Como's dedicated vegetable garden. The chefs are out there every morning, picking fresh mint and basil, carrots and cauliflower for the new spring/summer menu.
And while we're on the menu, here are just a few highlights to get you salivating...First, a Nutella Gelato Croissant (yep, really), topped with Belgian choc gelato and a Nutella praline. This thing is officially off the chain. We can also recommend the retro Prawn Toast Soldiers with chilli jam and a kimchi salad. And don't get us started on Mitraillette. We want to marry this thing: a French baguette, stuffed with rare roast beef, French fries, pan juices and Béarnaise sauce. Stick a fork in us—we're done.
Looking for a sweet corporate lunch spot? The Stables also handles a range of private events, everything from a casual office lunch up to full-scale weddings.
And trust us, sitting out there in the courtyard, listening to the babble of the fountain, tucking in to a Nutella Gelato Croissant...there aren't many corporate venues that can match that kind of atmosphere.
Image credit: Jenna Fahey-White
---