The Station House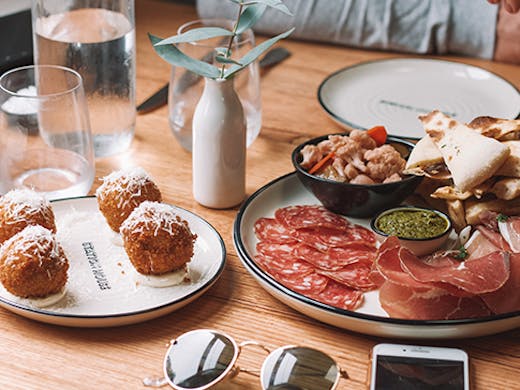 The Verdict
You're in Gembrook and you've ridden Puffing Billy (with your arms and legs safely inside the carriage, thank you very much). Now what?
Well if you take our advice, 'now what' is The Station House, Gembrook's friendly local Italian eatery and pizza parlour. This place has been around for a while, just across the street from Puffing Billy station, but it recently underwent a big renno and refresh. They're still serving some of the best pizzas and Arancini balls going around, but now you can eat them in a fairy-light courtyard under the stars.
There's a few hearty Italian mains on the Station House menu (the braised beef with polenta, salsa verde and greens is a winner), but really you shouldn't stray too far from the pizza menu. These guys have a rep of making some of the best gluten-free pizza bases in Melbourne.
Executive chef Chris Henderson runs the pass up here, and he really knows his way around a pizza oven. Our picks are the Speziato (spicy salami, mozzarella, chilli, oregano, local pork sausage and fresh basil) and the Zucchini (a simple but delicious mix of zucchini slices, tomato, ricotta, chilli and basil).
Don't forget to load up on some starters and sides as well. Garlic bread with salsa rosso and extra cheese (NOM), white anchovies or a little salumi board. Everything's fresh, tasty and pretty reasonably priced.
Kids are welcome at The Station House, and there's a dedicated 'Little Potato' menu just for them. Give 'em a big bowl of Spag Bol, plus an ice cream sundae for dessert, and they'll sleep all the way home.
Outer suburban eateries like this one are what the countryside is all about. They're not just places to get a quick pizza—they're default community centres. The staff know familiar faces, kids' names, how you like your gnocchi. It's that sort of restaurant.
Next time you're riding Puffing Billy, pencil this in for afterwards. You won't be disappointed.
Image credit: Healthy Karma
---
You May Also Like