The Tamper Trap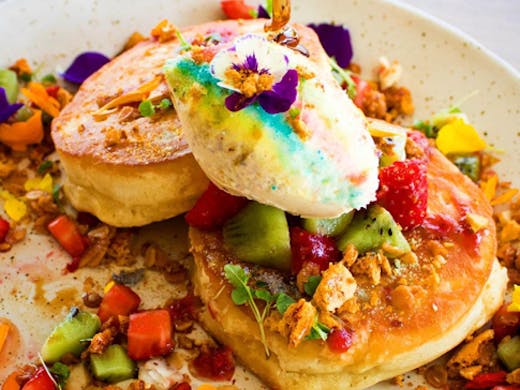 The Verdict
Add this one to the never-ending brunch list, guys. It's called The Tamper Trap (note the spelling), and it's the newest brunch bar on Bay St, Brighton.
As you'd expect from a Bayside cafe, the fit-out is on-point. Polished floors, white subway tiles on the bar, greenery hanging from the ceilings and some chunky timber to warm things up. Definitely a sweet disposition (sorry, last one we promise).
Our favourite spot? Park yourself on the squishy, turquoise bench seats and order up a Dimmatina house blend. The guys behind the all-white espresso machine are also slinging an Ethiopian single origin, cold drip from Rwanda, and keep an eye out for the new batch brew. Short of a coffee IV drip, The Tamper Trap has your caffeine needs covered.
On to the food. This is where it gets really good. The menu is skewed towards colour and health, which means technicolour superfood bowls of beetroot yogurt, hummus, edamame beans, cherry, tomatoes blushing salmon and crispy kale. Don't worry diet-busters, there are cheat dishes here too. We recommend either the Breaky Brioche with fried egg, bacon, mushrooms and chipotle mayo (err, yes, you need the hash brown croquette) or the Trapped Chilli Scramble with chorizo, chilli, mint and coriander. Zingy AF.
But the dish that's got us itching for the 'Gram is the Honey Hotcakes. Holy mother of Wonka, these things are beautiful. Two fluffy, perfectly fried hotcakes, topped with macerated kiwi and strawberry, crushed honeycomb, edible flowers and a quenelle of rainbow vanilla mascarpone. It's like eating a Rembrandt.
If a strong latte isn't doing it for you, there's a range of fresh-blended juices and smoothies too (the mixed berry with coconut and mint is a winner).
All in all, a seriously solid addition to the Bay St scene. Whether you're a fan of Temper Trap or not, EVERYONE loves brunch.
Image credit: The Tamper Trap
---