The Terrace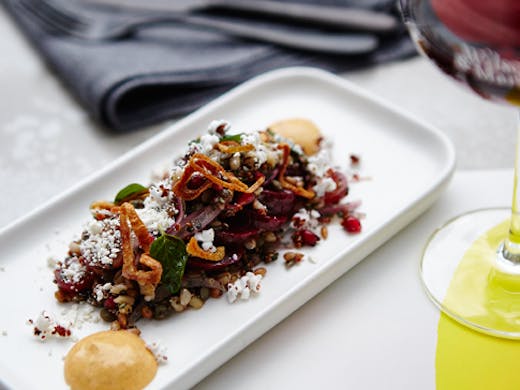 The Verdict
The Paul Wilson empire grows ever larger. First came Mr Wilson's Tuckshop, then the in-house cafe and brasserie, then the Wilson & Market 'Luxe Bar'. Now we've got The Terrace, and a good thing too—it's arrived just in time to catch some Melbourne sun.
The Terrace is Wilson & Market's "flirtatious" new dining and cocktail venue. In fact it's the only street-facing garden bar in South Yarra. A spot where you can kick back with an Aperol spritz and a dozen Coffin Bay oysters, swap witty anecdotes, and watch people do Chap Laps down Commercial Rd.
"Spring is the time to unveil a relaxed, fun and spontaneous drinking layer to our business," Wilson says. "
The menu has a definite Mediterranean vibe. Farm-to-table share plates and mezze platters, Spanish-inspired G&Ts and wood-fired Lahmucan (a traditional Turkish flatbread) topped with house-made dips. Whack on a few carafes of biodynamic local wine, or a craft beer or three, and you've got the makings of a classy Sunday sesh.
The fit-out is state-of-the-art, as you'd expect. Big glass windows fronting onto the main road. A retractable roof to make the most of the fickle Melbourne sunshine. Lush garden décor, inspired by terrace dining in Singapore, Beirut and London, and a huge custom mural from Tokyo-based Russian artist Karina Elbatova. The whole thing feels upmarket South Yarra, with a slight street edge. Bang on for the Commercial Rd strip.
Afterwards of course, you've got the Prahran Market right next door. If you've still got stomach space, a three-cheese toastie from Maker & Monger is pretty much compulsory.
Image credit: Michelle Jarni
---
You May Also Like