The Village Belle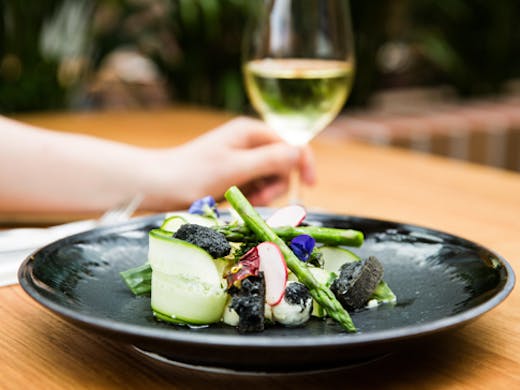 The Verdict
There's a certain feeling you get at the new Village Belle. We don't know what it's called, but it happens around 4pm, when the sun's out, and you're sitting at the courtyard sipping your third mojito, tucking into a giant pizza.
Happiness, maybe that's the word. The feeling like you could kick on here all damn day. That feeling is rare, and venues spend millions trying to capture it. The fact that the Village Belle also spent millions on a humungous 18-month renovation only proves the point—this was money well spent.
It takes a while to walk you through the new-look Belle. If you used to come here in the old days to watch Greyhound racing and sink pots of Draught, you might not recognise the old girl.
The front bar is still there, of course, as is the Draught (keep an eye out for the mega-litre copper kegs, suspended near the ceiling). But now you've also got a huge atrium space and beer garden, with a retractable glass ceiling, plus an upstairs cocktail lounge and DJ floor. The whole thing is a multi-level behemoth, able to cater for everything from private functions to an afternoon with the boys.
Let's get down to the food. The menu is specifically designed for easy eating. Chef'd up pub classics and a few Euro-style fine dining options. Grilled scampi with roquette fennel and citrus. Maybe a steamed bun stuffed with crispy pork belly, cucumber and chilli.
The real stars are the pizzas—cooked slightly thicker than your hipster Neapolitan (all the better for soaking up cocktails, right?) Personally we're a fan of the Herbivore: grilled artichoke, eggplant, pumpkin, goats cheese, zucchini and basil. Freakin' YUM.
There's a dedicated private function space above the atrium (with it's own bar—a nice touch). Not to mention a proper cocktail lounge, complete with dance floor, DJ booth, back bar and squishy mod-pink booths.
Now that summer's here, this place will come into its own. Grab the crew, clear the schedule, and settle in for a quality Sunday sesh.
Image credit: Annika Kafcaloudis
---