The Whiskery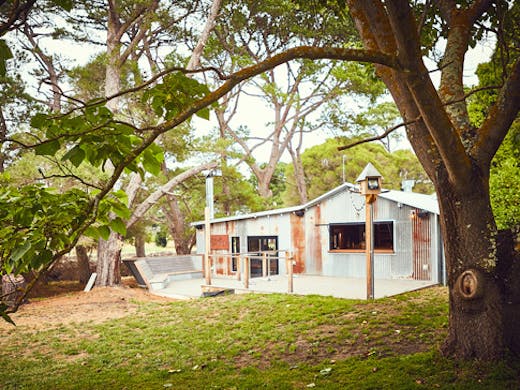 The Verdict
If you move in the right kind of boozy circles, you might have heard whispers of this place. A brand new cellar door for the Bellarine Distillery, down in Drysdale. Well now it's finally here.
It's called The Whiskery, and it's based in a former Cobb & Co coach-horse watering hole. Owners Russell Watson and Lorelle Warren have turned an old tin shed into a timber-lined, tasting room. Picture a few comfy couches, some high bar stools, and chunky beams running across the ceiling. If you're wondering about the name, it comes from Russ's impressive moustache.
In terms of tastings, you can get whisky from Bellarine Distillery and gin from Teddy & The Fox (another brand from Russ and Lorelle). Unfortunately the single malts are still sleeping in some barrels out back (they'll be ready in about 12 months). But the Teddy & The Fox gin is ready to go right now.
The plan is to also showcase local wines, ciders, beers and boutique gins, then pair them with basic grazing plates and simple Neapolitan pizzas. Russell and Lorelle don't have to look too far for good suppliers either—being based in Drysdale they've got all of The Bellarine on their doorstep. The property is beautiful too: a sprawling patchwork or green fields, almond, fig and walnut trees.
In the colder months, the big fireplace will be roaring, but there's outdoor seating if the weather's good. Add this one to the road trip list (just don't forget to bring along a DD).
Image credit: The Whiskery
---