The Wood Samaritan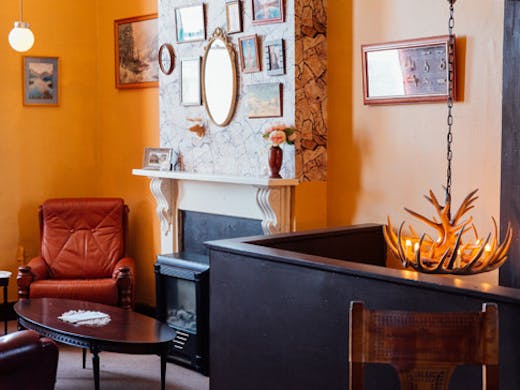 The Verdict
Stepping into Wood Samaritan is like getting the keys to your friends' log cabin for the weekend—it's simultaneously cosy and exciting because you know you're in for a great time.
Built by a team of hospitality veterans, including James Frew, Dean Wilkinson, Nick Ringdahl, and ex-Naked For Satan Lauren Turner and Hayley Mcmahon, you can rest assured that Wood Samaritan is not your amateur's hospitality venture. We're talking full log cabin, kitchen, and bar, so all your cosying up needs are instantly met. On those cold, wet nights, it's quite well and truly possible that you might never want to leave.
We're talking wood panelling, 70s wallpaper, hanging ice skates, a cosy-as-hell fireplace and a friendly atmosphere. The quirky decor is inspired by North American log cabins, and, as a Canadian, really warms my hockey-loving heart right up. They also have a Canadian mountie tap handle, so I practically live there now.
Warm up with a PB and J Negroni or Smoked Jalapeño Margarita, or take your pick from an ever-rotating list of local wines and beers that will tick off any sustainability requirement on your list.
And while you think a log cabin might go crazy on the venison meat, fear not: while the menu is centred around a smoker, there are plenty of vegan and vegetarian options to keep everyone happy.
The Wood Samaritan is open from Tuesday to Thursday, 3 pm - 11 pm, and Friday to Sunday from 12 pm - 1 am. Bring your flannel.
Image credit: Annika Kafcaloudis
---