Thin Slizzy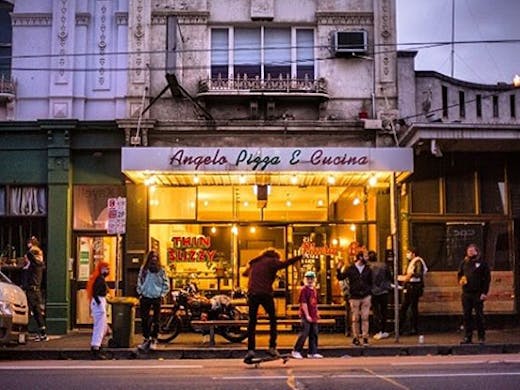 The Verdict
Collingwood just scored a very Collingwood late-night pizza joint called Thin Slizzy, courtesy of Scott Penberthy, a veteran of the Melbourne pizza scene who's spent the last five years slinging slices at northside institute Rita's.
It's a casual affair at Thin Slizzy that's primed for the area's demographic. The pizza house is tucked just by live music venue The Tote, it's open until late and it serves beer—perfect for that post-gig feed and wind-down beverage.
There are 12 pizzas on the menu, each reinforcing the locale's theme. Highlights include, but certainly aren't limited to the meat-laden Meatallica, and a pumpkin number called the Smashing Pumpkin and a potato pizza titled The Ace of Spuds. Very good.
The quality of the names extends to the quality of the pizza, too. Penberthy has drawn from his learnings at Rita's, and before that +39 Pizzeria, to create a thin Neopolitan style base which is first fermented for 48 hours.
The venue itself holds up to 30 seats, which will likely become available to the after-hours boozehound in us all as restrictions continue to ease. In the meantime, give Thin Slizzy a call 03 8597 4475 to order.
Image credit: Thin Slizzy
---