Thornbury Picture House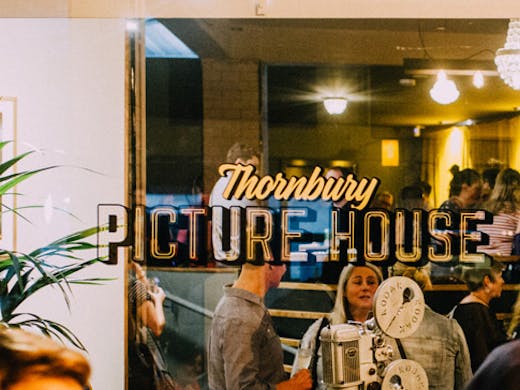 The Verdict
Just when you thought Thornbury couldn't get any cooler...we get this thing. The Thornbury Picture house. A boutique cinema inside an old 1919 motor garage, screening new releases, cult classics and more indie flicks than Sundance.
The whole thing is the dream of one man: Gus Berger. This is the guy behind the 2013-2014 George Revival Cinema in St Kilda (remember that one?). His passion is independent cinemas and Thornbury Picture House is his northside lovechild: 57 very comfy seats, a big screen, and the obligatory on-site bar.
"Ever since I was forced out of the George Revival Cinema, I had been looking for a new home and I knew that it had to be north-side," says Gus. "I've had my eyes on this old garage in Thornbury for years, I kept persisting and eventually secured the long lease."
The facilities here are as good as you'll get, considering the cosy space. State of the art Krix 5.1 sound, a 6m screen and curious dotted about the place to give it that 'garage cinema' feel. Think old film canisters, classic Cuban cinema posters, 8mm and 35mm film cameras, set-lights and 16mm projectors.
The really good news? Not only can you catch blockbusters here, Gus is making it his mission to screen local talent. Small-time Aussie filmmakers that wouldn't get a look-in at regular cinemas. There's also plans for a northside film festival in the works (watch this space).
Julian Beattie of Makestuff handled the bar build, and he's done an awesome job. There's definitely more than a dollop of art nouveau styling in here, mixing nicely with upcycled furniture and greenery in the original motor garage forecourt on High St.
All in all, a cracking addition to the city's booming indie cinema scene. Welcome to Thornbury, guys (see what we did there?)
Image credit: Tim Williams
---