THR1VE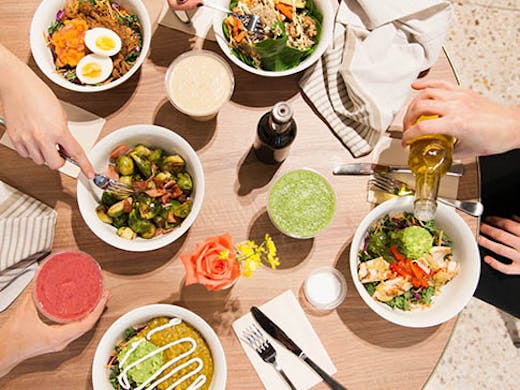 The verdict
THR1VE isn't your run of the mill lunch spot, instead serving fresh flavour bombs that are vibrant and tasty. Built on the mission to deliver real food, real fast, THR1VE is the ideal hit-and-run spot for a healthy lunch, or breakfast which they serve all day from 7am. Their inner city locations mean that you no longer have to make do with unhealthy and uninspiring lunches in the middle of your workday and can instead make your first choice, conveniently the healthiest choice.
Their menus are loaded with nourishing bowls, loaded with essential macro and micronutrients, combining quality seasonal produce and locally and ethically sourced protein with healthy fats. The dishes are inspired by ancestral health protocols but still have gourmet flair. This translates into gluten free bowls and smoothies that can be easily tailored to your taste and your health goals.
Don't Miss $5 Lunch At THR1VE
The team at THR1VE have got all of our backs this August making it possible to have a super tasty, not to mention healthy, lunch for the bargain price of $5. Just click this link for your exclusive code and head in to your nearest store between Monday 15th - Friday 19 August.
The menu changes with the seasons, to ensure your belly gets the ingredients when they are the absolute tastiest and at their nutritional best, but on an average day, you can expect to find bowls like the bikini bowl which is a crunchy kaleslaw topped with chargrilled lemon and herb chicken with basil pesto and roasters peppers or a saintly clean and green bowl, which is seasonal greens, teriyaki style salmon with roasted peppers and a side of chilli and almond broccoli.
If a meal isn't a meal without carbs, then opt for one of their gluten free artisanal buns or a primal toast. The primal toast is a simple combination of a gluten free, superfood loaf served with your choice of spread (go the sliced banana and honey), there is also a damn tasty sweet potato and bacon bake to up the carb game in any bowl, whilst the smokey Joe is a more substantial meal of grass fed pulled beef filled with smokey BBQ sauce and kaleslaw on a gluten free bun.
We haven't forgotten the smoothie bar and neither should you, because the white chocolate smoothie (vanilla whey protein, house made cashew butter, coconut cream, dates, chia seeds and sea salt) is calling our name. They also make their own almond milk, coconut milk, sauces and many other tasty goodies fresh in store each day to ensure you're always getting real food that tastes as good as it absolutely should.
If you're feeling a bit more adventurous, you can design your own with their three-step process. Lunch has never looked so good.
Image credit: Federica Portentoso
---