Tibbs & Bones | Windsor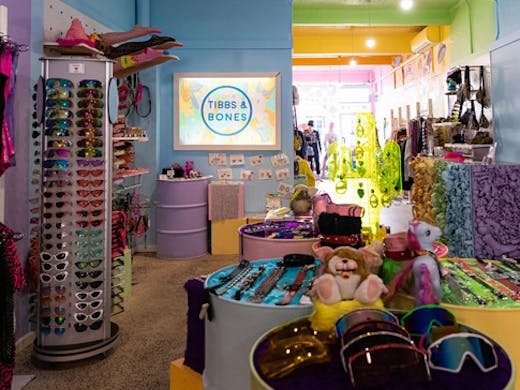 The Verdict
Step into the store and you are immediately transported to a psychedelic world of purple metallic changerooms and sequin curtains, disco music bouncing out of the speakers and a fluorescent green zebra at the door to greet customers.
Jade and her fiance Madison began their journey by selling vintage clothes online and at the Camberwell Market in 2014 from a range of both local and international labels. They opened up the store in Northcote which has now been running for three years and with its success, recently launched a larger space in Windsor. Since then, the brand has sky-rocketed thanks to its large following on social media platforms and a growing bunch of loyal customers.
The couple wants people of all ages, shapes and sizes to be able to walk into the store and try on whichever wacky and wonderful item of clothing takes their fancy and feel incredible in it. The shelves are stocked with a range of pieces including Barbie playsuits, see-through mesh coats with fur detail on the sleeves, jewellery in the shape of avocados...you name it. They even have a children's line which features face beads and jellyfish earrings as well as chains and dog collars for the more daring of adults.
Madison, who is running the store wears leopard print pants, a beanie and rounded oversized glasses and offers customers a watermelon candy upon arrival. Your eyes are unsure what to focus on as the shop is painted in pastel colours with vintage newspaper cutouts and paper-mache soft toys glued to the counter. Jade and Madison are frequent festival-goers themselves, attending Strawberry Fields and Rainbow Serpent and they even have a stall at New Years Eve festival Beyond the Valley. While the festivals are certainly seasonal and the lead up to summer events sees sales off the charts yet a far quieter Winter, both stores are open all year long.
But what is Tibbs & Bones? Is it some festival lingo you are completely unaware of? Believe it or not, Tibbs and Bones are in fact the names of the couple's beloved cats. So if you've recently bought tickets to a festival and are wondering how on Earth to look like the Coachella stars do then look no further than Tibbs & Bones.
Image credit: Mel Desa
---