Tino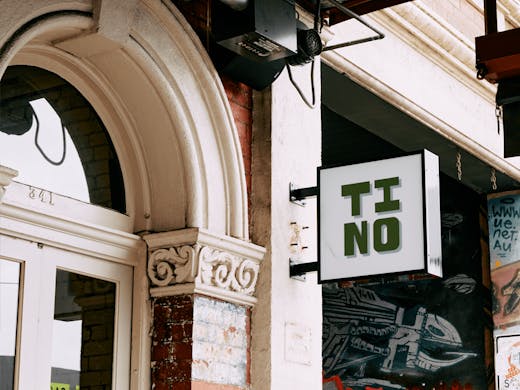 The Verdict
Celebrating the flavours of Latin America, Tino is the latest destination to grace Brunswick's Sydney Road.
Helmed by chef and co-owner Sergio Tourn, the breezy rendered brick shopfront houses an accessible bar and restaurant ideal for small sharing plates alongside cocktails. Sergio, who was born in Argentina, has imbued the menu with the flavours of his formative years.
The menu is split between lighter snacks like the spiced roasted eggplant with a red mole (chilli and tomato sauce) and creme fraiche to regional specialities from the southern continent—including a timeless chargrilled porterhouse steak with Chimichurri.
There are also several vegetarian and plant-based options on the menu, with house-made dishes like Tourn's very-own Grandma's recipe for eggplant escabeche, as well as Esquites Farroto (charred corn salad).
Covering the beverage front is Bruno Costa Silva (Bar Carolina) who's curated a range of cocktails drawing on Latin flavours, including a house Pisco mix. The wine list also highlights vineyards from the South American region alongside a collection of local Australian drops.
Tino is located at 341 Sydney Road Brunswick, head over here to check it out.
Image credit: Parker Blain (supplied)
---