Tiramisu Lift Me Up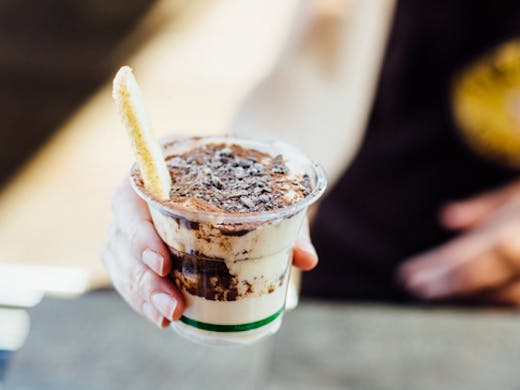 The Verdict
When it comes to food trucks these days, it takes a lot to make Melbourne sit up and take notice. We like to think we've seen it all before. Well we just found something you haven't seen: a vintage Italian three-wheeler, driving all over town serving cups of homemade tiramisu.
That's right, Australia just got a tiramisu food truck. Although is it still a truck if it doesn't have four wheels? Cristina Proietti and her partner Fabrizio have set up shop from the back of a tiny Ape Piaggio 50 (seriously, where can we buy one of these things?), and they're bringing Nonna-level tiramisu to the masses.
This stuff is made the proper way, with pasteurized eggs (making it safe for everyone, especially the kiddies). They do a 'Classico' flavour, of course, mixed with cocoa and dark Italian chocolate, but you can also get matcha, milk choc and salted caramel, even Nutella. They even do vegan and gluten-free alternatives, if you swing that way.
The business was inspired by Fabrizio's obsession with his Nonna's tiramisu (we're not sure, but the secret ingredient was probably love...and a healthy splash of Marsala). And the rest is history. The name comes from the translation of Tiramisu—literally 'lift me up'.
As usual with food trucks, you'll need to keep track of their socials to find out where the Ape Piaggio is stopping next, but there's a good chance you'll spot them around the South Melbourne Market from time to time.
And the tiramisu itself? We can confirm: fluffy, creamy, with a choc-espresso kick that keeps us buzzing all morning. It's the perfect mid-market snack.
Image credit: Annika Kafcaloudis
---