Tom + Captain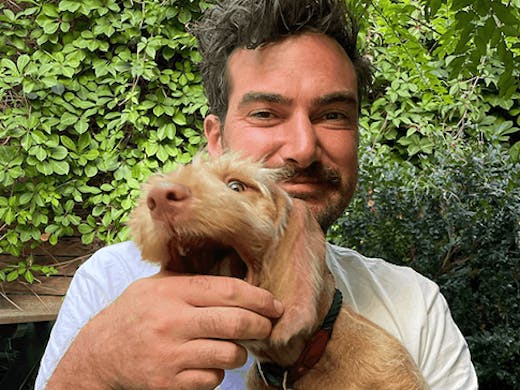 The Verdict
Tom Lillecrapp might have the best job in the world. He's a full-time dog adventurer. All day, every day, he takes peoples' dogs into the wild and plays with them. That's basically the whole business.
Welcome to Tom + Captain. It started up back in 2013 when Tom left his job in real estate. He bought Captain, a silver-haired Weimaraner (aka "the saddest dog in the world") and started taking him, and a few neighbours' dogs, on adventure walks. Not to the park or 'round the block, but into Victoria's forests and wild places—where they could ramble, scramble, sniff possums, drink from streams and basically exhaust themselves.
Flash forward to 2018 and Tom has a fleet of vans, a staff of full-time dog walkers, and a bricks and mortar store in West Melbourne. This is Tom + Captain HQ—a specialty pet shop, beautifully branded, stocked with the finest dog treats and flashy collars.
Captain's personal choice is the Found My Animal collar in Indigo Fade (all the collars are hand-made in Brooklyn and go to support rescue animals back in the States). You can also get treat toys from Up Dog, fish sticks from Polkadog, doggy waste bags and whistles from the guys at Acme. They even stock issues of dog magazine Four & Sons (which is like Cereal...with fleas).
Our pick? We're pretty psyched about the official range of Tom + Captain merch, including flat caps and t-shirts. We can't all be professional dog adventurers, but we can damn well look like them.
Don't have time to swing by West Melbourne? Check out Tom + Captain's online store. You can learn more about Tom's adventures (and how you can sign-up your pooch) over here.
Image credit: Annika Kafcaloudis
---