Transport Bar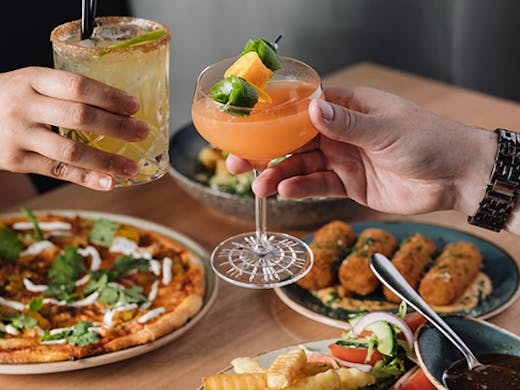 The Verdict
Since opening in 2003 in Fed Square, Transport Bar has become an iconic local watering hole. The sun-drenched bar is as central as you can get—making it the perfect spot for an after work refreshment. For sports fans, it doesn't get much better than two enormous screens dedicated to all the live action.
On the interior front: the place screams inner Melbourne, with high ceilings and chic industrial steel. Seat yourself up at the main bar if you want to be at the heart of the atmosphere (long communal tables provide plenty of tipsy bonding opportunities).
In terms of beverages, there's no shortage of choice. Not only are there 15 beer taps with a rotating mix of local and international favourites, there's wine ON TAP.
We'll give you a minute to process that one.
All your treasured vino varieties and vintages are flowing, including Chardonnay, Sauvignon Blanc, Rosé and Pinot Grigio. Cocktail jugs are another excellent choice, because what's Friday arvo without a cocktail (or three) in hand?

There's also plenty of snacks and share plates on offer, all designed by executive chef Tony Twitchett of Taxi Kitchen (the iconic restaurant attached up top). Small tasting plates include pork and veal polpetti in napoli sauce, and stone-fired pizzas. Classic pub dishes like burgers and a good old-fashion schnitzel are also available.

Stop in next time you miss that express train back home—or just miss the train on purpose?
Image credit: Griffin Simm
---