Trapt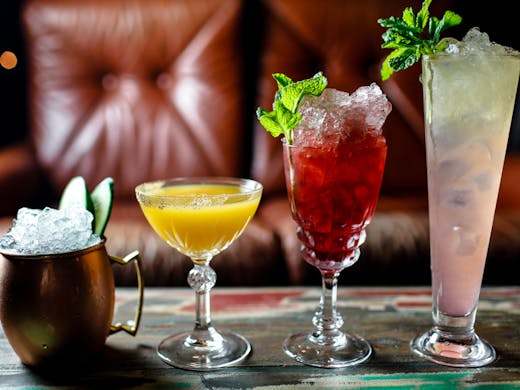 The Verdict
Imagine the scenario: You and a handful of mates head to one of Melbourne's latest underground cocktail bars, ready for a night of drinks, nibbles and good times. When you get there, one of the venue's staff asks you a little about your interests—are you a Disney princess, a horror fan, or still binging your way through 'Orange Is The New Black'?—then leads you to an awesome private room, filled with props and puzzles. When she doesn't return, you reach for the door, thinking there must've been a mix-up. It's locked. What the hell is going on?!
Melbourne, meet Trapt, the city's most incredible bar-cum-escape room experience that'll have you wondering why you'd ever want to go to a 'normal' bar again. With a fantastic cocktail bar serving both classics and themed concoctions that are actually delicious (um, a gin and honey blend named after the Mad Hatter's Tea Party? We'll take two, please…), as well as four incredible themed puzzle rooms on site, the latest craze has us hooked when it comes to nights out.
So, what does the Trapt experience entail? Guests are required to book into the Trapt puzzle rooms in advance (you can drop into the bar any time), choosing one of four—soon to be five, our sources say!—themed puzzle rooms in which you will be 'trapt' until you work out a series of puzzles. With room themes including the fantastical Alice In Wonderland, the zombie-fuelled Biohazard, the dungeon-dwelling Transylvania and Prisonbreak—yes, you've somehow got yourself locked behind bars—there's something new every time you go, as well as a range of difficulties to choose from. You can book for up to six guests per room, making it a killer way to shake up your social scene and avoid pub boredom...
But it's not all fun (or terror?) and games. The team at Trapt serve up some mouth-watering pizzas courtesy of Crust, which makes for the perfect accompaniment to their fully-stocked bar. All of this, set in the Chesterfield couch-filled basement of a historical Melbourne building? Whether you're into the puzzles or not, this is one hell of an awesome spot.
The experience isn't just for fun, it's also a fantastic way to encourage a little mental gymnastics, or even get to know work colleagues while doing something waaaaay more interesting than the standard team-building exercise. Of course, weekends are likely to book our a little quicker than weekdays, so if you're chomping at the bit to get Trapt, a shorter-notice midweek booking might be a better bet… The only question is: Will you ever get out?
Image credit: Gareth Sobey for The Urban List
---