Twenty Pho Seven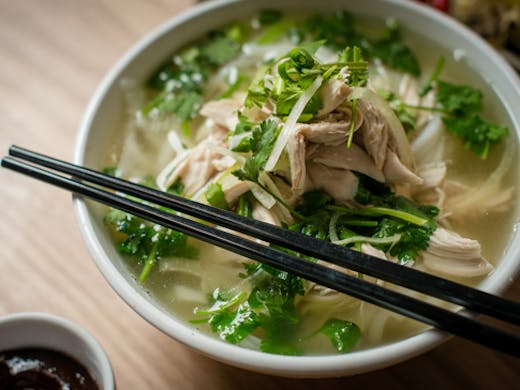 The Verdict
It's the one pho pun we never considered, and also the one that makes the most sense. Presenting Australia's first EVER 24-hour pho restaurant. That's pho 24 hours a day, seven days a week. It never sleeps. And it's ours, all ours...
Twenty Pho Seven is the latest venture from the crew behind Hochi Mama, along with long-time friends Thai Ho, Midawll Phal and George Do. Nice to see a bit of swagger in the venue too: the boys are already dubbing this "the best pho in Melbourne". Massive call, and one which the residents of Richmond, Springvale and Footscray will be eagre to debunk.
The pho itself is brewed to a secret recipe, handed down through the family for generations—probably locked in whatever nuclear vault The Colonel keeps his secret herbs and spices. You can expect a range of beef and chicken pho (yes, with tripe and tendons) plus banh mi, spring rolls, rice paper rolls and bubble tea cocktails.
Twig and Co handled the fit-out, with a little help from designer Alexander Tang. If you've seen Hochi Mama you'll know what to expect: a slick Melbourne fusion of neon graphics, graffiti artwork, exposed brick and brushed concrete.
Image credit: Twenty Pho Seven
---