Union Electric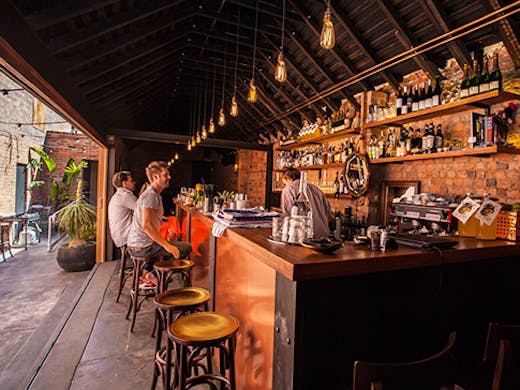 Building a rooftop bar sounds fun and all, but it's tricky when the building you're working with has been around since 1891. This was the problem confronting the Union Electric team when they started planning Melbourne's newest sky-high gin parlour.
Oh course, front-man Huw Griffiths (ex Meatball & Wine Bar, Madame Brussels, Le Bon Ton) has been here before. When the Union popped up in early 2015, he stripped back the walls to find heritage brickwork and century-old rafters with hand-beaten blacksmiths nails. You can't buy that kind of atmosphere. All thoughts of knocking the place down and starting from scratch were dead.
Building the rooftop gin bar was more of the same. To preserve the building's bones (and keep Union downstairs buzzing away), the team built during the day and kept service running at night. They've installed a massive metal gantry above the main bar, supported by nine pillars. Just getting their hands on that much steel pushed back the opening by a few months (it was due to open last December).
Fans of the old Union Electric will be happy to know the old girl still has her charm. The red-brick Bill Murray speakeasy is still alive downstairs, Edison bulbs and all. But climb the metal gangway and you'll find something a bit lighter up top. An airy roof parlour, sprinkled with shady, blue umbrellas, monstera galore, and free-growing botanicals like juniper, lilly-pillies and lemon myrtle. The whole thing screams Friday post-work knock off.
On to the drinks. Gin is the main event on the roof (when Melbourne gets sick of drinking gin, we'll let you know). You'll find big-name brands like Bombay Sapphire, plus an epic assortment of local boutique stuff. Think 'Virgin Cane Spirit' from Archie Rose, plus special distillations from Whitman & Sons, Melbourne Gin Company, Four Pillars, West Winds, Cape Byron and Citadelle.
Special shout out to the 'Them Apples' cocktails—apple juice, tall over ice, spiked with lemon and your choice of rum, whisky or gin. Niiice.
The new-look roof palace is open from midday every day. We recommend using it daily, nightly and ever so rightly (while we still have sunshine, anyway).
Image credit: Nick West
---