United Places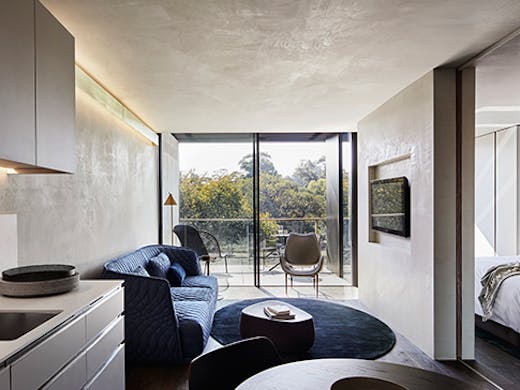 The Verdict
Next time you're walking along Domain Rd in South Yarra, cast your gaze up a couple of floors. You'll notice a modernist, brushed concrete building above the new Matilda. They look like high-end apartments, but they're actually the city's newest boutique hotel. Twelve spiffing suites with personal butlers, designer furnishings, and some of the best damn views in the city.
This is United Places. South Yarra's new A-List address. If you're planning a very fancy staycay (or happen to be an international movie star looking for something out of the CBD) this might be right up your alley.
The entrance is deliberately discreet. Owner and first-time hotelier Darren Rubenstein wanted it to channel that Melbourne laneway vibe. You enter through a black metal door, then walk down a long corridor (with a smiling concierge at the end). He'll see you up to your suite: either one or two bedrooms, overlooking the Botanic Gardens.
The Garden Suites and Penthouses are the 'extroverts' of the bunch. Some even have black bathtubs right up against the window (cop an eyeful of that, South Yarra). CARR Architects handles the design and the layout. This place doesn't scream Money—it doesn't need to. A subtle cough and the velvet drapes are enough. Each suite is decked out in green or pink accents, with Redondo sofas by Patricia Urquiola and award-winning Scape chairs by Grant Featherstone.
Nearly everything in your room is handmade by locals. Darren really wants this place to feel like a reflection of Melbourne. People travel for long enough to get here—when they arrive, it shouldn't feel like any other city. The only nod to overseas are the Le Labo amenities in the bathroom (United Places is the only hotel in town to snag that contract). They're also the only hotel in the world to offer Sullivan's Cove whisky in the minibar.
Want to go out for dinner? Your concierge can book you into the hottest restaurants in town. But really with Scott Pickett's Matilda downstairs, you don't have to look far for a good feed.
Rooms at United Places start at $650 a night. So obviously this isn't your average weekend staycay. But on the other hand, where else in Melbourne are you gonna get this level of luxury and personal service?
Welcome to the neighbourhood, guys.
Image credit: United Places
---