UPG Studio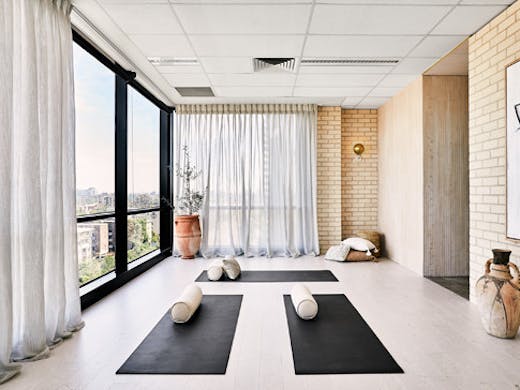 Picture this: you're on a yoga mat in downward dog position with a skyline view of South Yarra and the city skyscrapers in the distance. The team at Studio Ezra led by Georgia Ezra have designed a minimal space with light, neutral tones and whitewashed timber floors, perfect for the cushioning of limbs in wacky pilates positions. Situated on the 11th floor, the large glass window offers an escape from the bustling streets of the shopfronts in South Yarra down below.
The space is in direct collaboration with business United Physiotherapy Group, founded in 1999 by James Nguyen. UPG is a network of incredibly dedicated physiotherapists and wellbeing consultants who all share the same vision of helping clients achieve what they want out of life through a holistic and positive approach. The studio offers a range of services from yoga and pilates to physio and corporate events.
Classes are capped at 5-8 people, allowing for an intimate session where each member receives professional attention from the instructor and ensuring they have adequate space to move and feel comfortable. No need to sweat if you have never dabbled in these forms of movement; UPG welcomes people from all walks of life using a range of methods including reformer pilates and yin and yang yoga.
Clients are also able to book appointments with head physio Elliot Watts, who deals with a range of problems including sport-related injuries to providing strength-training advice, all within the rooms adjoining the studio. The South Yarra space has also begun hosting events, bringing like-minded people together to celebrate healthy living and exercise. So whether you are a first-timer or a long-term yogi, come and visit UPG Yoga Studio and let the friendly team take care of all your wellness needs.
Image credit: Supplied
---