Vaporetto Bar & Eatery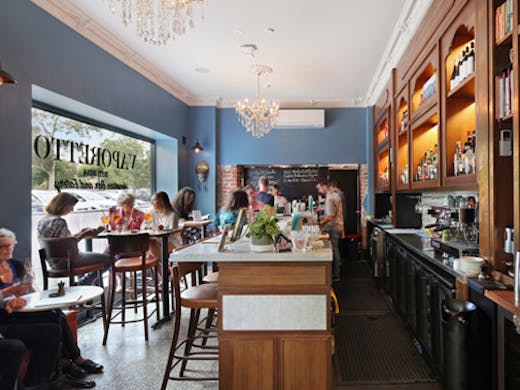 The Verdict
There's a promising sign stuck to the front door of Vaporetto, Hawthorn's Venetian restaurant and wine bar: 'Come on in! It's warm and cosy inside.' We're happy to report that this little sign is right on the money. With its washed-out pastel timber, old-school lettering and masquerade masks on the wall, Vaporetto has an excellent vibe: somehow chilled and bustling at the same time. A little slice of the Grand Canal, right here in Melbourne.
There's a few regulars up at the bar, sipping Berocca-orange Aperol Spritz and discussing politics in thick Italian accents, but turn a corner and the place's energy smacks you between the eyes. Aproned waiters zip and hustle around, armed with insanely good Italian food and frothy cocktails by the truckload. There's an open kitchen, almost teppanyaki style, where you can eat within a few feet of flaming pans and slicing knives. Smooth jazz oozes out of the walls and the buzz of conversation is everywhere.
"This is what Venice is all about, right?" says venue manager Lexi. "Theatre, intrigue, a little bit of mystery. That's what we've tried to create here. A place with a few surprises around every corner."
With the Lido Cinema just a few doors down, it's hard to imagine a better pre- or post-show venue. The cocktail list is extensive, but you can't go wrong with a classic Veneziano (Aperol, Prosecco, mandarino liqueur, soda, olives and orange…which is just about Venice in a glass). For starters, we'd recommend the Wagyu Bresaola (MS 9+): wafer thin slices of ruby-red Wagyu, drizzled in Extra-Virgin and dished up with crusty garlic bruschetta. There's a cracking smoked trout mousse on the menu too, dusted with a little paprika and served with crusty parmesan and polenta chips. Little squeeze of lemon…you're in heaven.
Vaporetto makes all its own pasta from scratch, and while there's a grilled fish and steak on the menu, you really come here for the squid-ink spaghetti 'Vongole' or the Tagliatelle with saffron and blue swimmer crab. Personally, our new desert island dish is the gnocchi: a slow-cooked lamb shoulder ragu on pillowy potato clouds, paired with leeks, cloves, salt bush and truffled pecorino. Absolutely insane.
Image credit: Vaporetto Bar & Eatery
---