Victoria Mill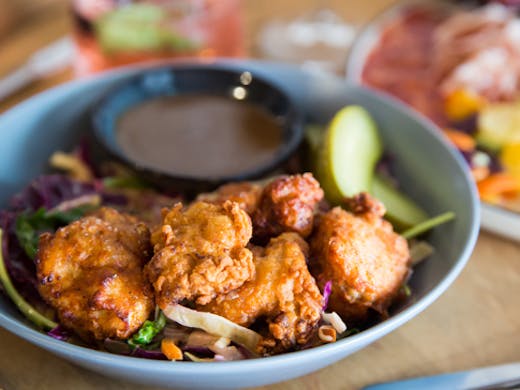 The Verdict
The sign out the front of Victoria Mill proudly declares 'Wine, Gin & Cheese'. Yeah, these guys don't mess around.
You'll find Victoria Mill on Brunswick St, at the site of the old Quick Brown Fox (RIP, old friend). It's hard to describe this place, because it's a little bit of everything: provedore, cheese shop, late-night cocktail lounge, wine bar. You can swing by for an expertly mixed Martini, or pick up a 6-pack of Prickly Moses and Australian wild olives for the road.
The basic premise is to showcase the best of Victoria, including wine, beer, cheese, cured meats and pickled produce. The best way to start is to plonk yourself up at the bar and let cocktail maestro Jack walk you through the menu.
Like any good wine bar, you've got your small tapas-like plates. Maybe a little wood-smoked Victorian trout with dill cream cheese and a fresh quail egg. Or charred octopus topped with crispy Kaiserfleisch.
Personally we're a sucker for the MFC (Mick's Fried Chicken)—the chef's special spice blend, fried to a crisp and served with crunchy slaw and jerk mustard from Little Brixton (this stuff clears your sinuses in one fiery whoosh). Goes great with a serve of the mac n' cheese gems...
The wine list is superb, as you'd expect, studded with classics from The Mornington Peninsula, King Valley, Yarra Valley and the Grampians. There's craft froths from Little Creatures, Two Birds and Colonial Brewing Co, plus a gin-heavy cocktail list (our favourite kind). Our pick? The Gin Mule—simple and spicy, served up with candied ginger and Navy Strength gin. Kicks like a you know what.
If you're a regular on the Fitzroy bar scene, give this place a try. You'll be pleasantly surprised.
Image credit: Jenna Fahey-White
---
You May Also Like
Food & Drink
Melbourne, VIC
Fans of flavour and seafood feasts, listen up. Louisiana-style Crawfish sensation,…