Vinorium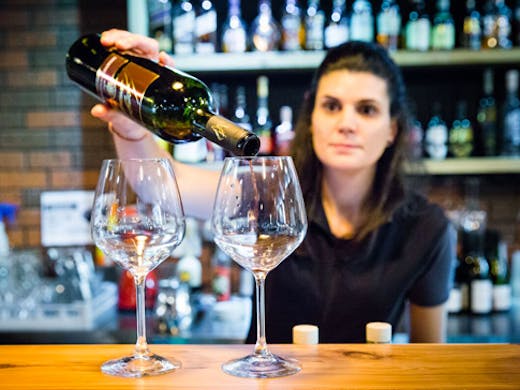 The Verdict
This place is basically a library for wine. Vinorium is Northcote's latest vino temple, and it's boasting some of the best international plonk going around.
The interior is rustic, with one whole wall dedicated to showing off Vinorium's wine collection. There's a bit of everything in here. Austria's 2014 Fred Loimor Lenz Riesling, Italy's 2011 Enzo Vincenzo Ripasso, and heaps more hailing from New Zealand, France, Argentina, and of course our beloved Barossa reds.
Anthony Nania is Vinorium's chief wine selector, cellar-master, Wine Ambassador, and wine educator, and with a business card like that, you can bet he knows his stuff. Nania's job is to pull together wines and spirits for Vinorium's exclusive tasting sessions, not to mention educating customers with his expansive wine knowledge.
Wine enthusiasts are able to purchase a bottle (or two) after the session, or pick a glass to enjoy with a side of salumi or cheese off Vinorium's modern and traditional Italian menu.
If you haven't guessed it already, Vinorium has a heavy Italian influence, and it shows on their menu. Pizzas divided into either Rosso (red sauce base) or Bianco (white sauce base). If you're gonna have one, make it The Italian; Buffalo Mozzarella, button mushrooms, pork and fennel sausages and roasted peppers. Or go the diet-killing Quattro Formaggi: a great vegetarian mix of Parmigiano Reggiano, Mauri Bontazola, Buffalo Mozzarella, and goats cheese.
For dessert, look no further than their Nutella Calzone: folded house made pizza slathered in Nutella and served with vanilla bean ice-cream. Delish.
Image credit: The Vinorium
---
You May Also Like