Vision Blonde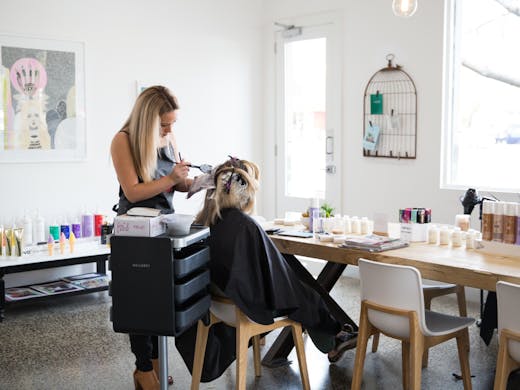 The Verdict
If you're a blonde—ash, platinum or otherwise—you'll know that a good blonde specialist is pretty hard to come by. Someone who understands the difference between 'creamy' and 'oh god it's totally yellow', or someone who will serve you a glass of champers whilst enthusiastically chatting about what on earth we all did before Olaplex.
Thankfully, if you're still looking for your new blonde bestie, we've found them for you. Vision Blonde, set in a cute, light-filled, renovated corner shop in South Melbourne, is a blonde specialist salon—and by that, we mean they literally only work on blonde hair. So if you're planning on dyeing your hair brown you'll be dead to them... just kidding. But they may talk you into a great ombre or balayage option instead.
Using only the very best colour from Wella, and stocking products from our personal faves, Evo, they also offer Olaplex as part of your blonde transformation—and will be happy to send you home with step three in tow to keep the breakage at bay. Don't understand what that means? Read more about Olaplex here.
When we popped into Vision Blonde with a frizzy, multi-coloured (and disturbingly yellowish) mop, the lovely Tish took us from blah to blonde bombshell—evening out the varying tones, and delivering us a delicious vanilla cream colour. Want proof? Check out the result here.
Whether it's maintenance with tender blonde-loving care, or a complete overhaul of your current look, Vision Blonde should be your first stop on the fair-hair train. All aboard!
Image credit: Jenna Fahey White for The Urban List
---