Warramunda Estate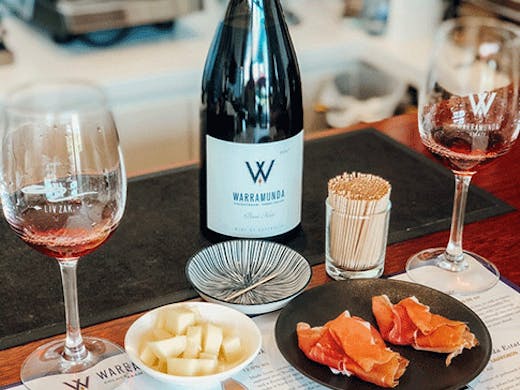 It's fair to say Robert and Irene Magdziarz know a thing or two about good wine. After hand-planting their first vineyard in the Macedon Ranges, they moved to Coldstream and took over the old Warramunda Station in 2007, turning it into one of the Yarra Valley's finest biodynamic wineries, Warramunda Estate.
Sitting on 65 acres of some of the most coveted terroir in the world, Warramunda is a proper, family-run vineyard. Robert and Irene's daughter, Olivia, even runs her own spin-off label, Liv Zak—after growing up on a vineyard it was only a matter of time until Olivia joined the family business.
So, what can you find at Warramunda? Well, unlike some of the bigger wineries in Coldstream, this place still has a distinctly family vibe. Don't expect the usual minimalist airport-hanger-with-Riesling combo. You can drop into the cosy cellar door on a lazy Sunday afternoon and debate the merits of Viognier vs Marsanne with Robert, Irene and Olivia (keep an eye out for their four-legged friends, Layla, Ralph and Dita Von Pussycat—yes really).
You can also find a pretty amazing range of biodynamic wines at Warramunda. These guys don't just make a cracking Chardonnay and Pinot Noir. They've planted all sorts of organic grapes over the years, including Syrah, Cabernet Franc, Malbec, Merlot and Petit Verdot. So you're getting a much more varied tasting panel than your typical Yarra Valley watering hole. And it goes without saying that the cheese and charcuterie boards will blow your tiny mind.
At the end of the day, it's about quality. Family vineyards know good wine isn't just about terroir—and it's certainly not about shifting bottles. It's about care, attention to detail and the love of the craft. That's what you'll get at Warramunda. Watch out for these guys on the Maroondah Highway next time you're driving through Coldstream.
---