Waterslide Bar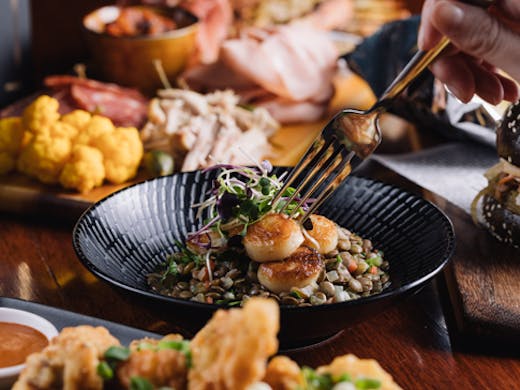 The Verdict
If there's anything you can count on after a long week, it's Friday night drinks. But if you're getting tired of the same-old-same-old in the CBD, it might be time to cross the river. Southgate's Waterslide Bar needs to be top of your list.
Waterslide is matching it with the best fusions in Melbourne right now. It's an on-trend mishmash of old and new, and inside you'll find hidden alcoves, booths and high table bars, so you can lounge or chill at your leisure.
Whether you're clocking-off from your 9–5, or meeting up for a romantic date night, the Arts Precinct riverside location means your post-dinner options for the evening are endless (Waterslide makes a great pre-show meal, especially when Fatto and Sake are packed to the gunnels). The bar faces out towards the Yarra and Flinders St, so you can kick back with a solid cocktail and a solid view at the same time.
Their well-rounded menu ticks most of the boxes. Looking for something light to line the stomach? They've got a few entrée bites (we recommended the olives, grilled calamari and Arancini balls—is a menu ever complete without Arancini balls?). If you're working up an appetite, there's pulled pork burgers, pizzas and empanadas to send those cravings packing.
If you're feeling devilish, opt for the Deathkorn 1.0 from their grazing menu. It's also described as "Fear The Reaper". We're talking buttered popcorn coated in Waterslide's XXX house-made hot sauce of habanero, scorpion and Carolina Reaper chillies. As stated on the menu, this isn't for the faint-hearted.
Waterslide Bar might be on the down low at the moment, but we promise you, it won't be for long.
Find out about Waterslide and more epic Southgate venues here.
Image credit: Griffin Simm
---