Wee Man's Kitchen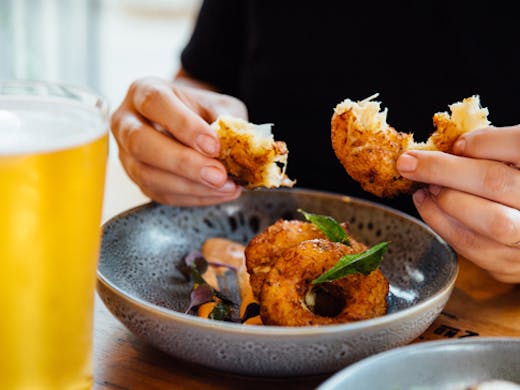 The Verdict
Tallboy & Moose has run a few different food trucks and pop-up kitchens over the years, but we reckon Wee Man's Has gotta be the best. C'mon, it's a dedicated Scottish restaurant running out of a Preston brewery! Haggis, tatties and/or neeps, the works, laddie. And it's owned by the city's unofficial Scottish ambassador, the legendary Chris Orr.
Chris opened up Wee Man's in late 2017, and it's been educating northside locals ever since. The haggis isn't exactly the traditional sheep-stomach variety though. Chris serves his as fried Indian pakora—Berocca-orange parcels, crispy on the outside, meaty and spicy in the inside, served with house yoghurt.
The Pakora haggis is still on the menu, but most of the rest is brand new. Chris decided to revamp last month and give things an old-fashioned highland shakeup.
Exhibit A: The Rumbledethumps. Hereby our favourite word to say EVER. They're savoury potato doughnuts, stuffed with cabbage, swede (not Swedes), cheddar and roast tomato, served with a wicked cashew cream dipper. Chris may have just invented the perfect beer snack right here. Definitely give the AM So Fondue a try too: beer cheese fondue with wotsits cheese powder and blue corn chips. We told you there was a shake-up...
If you're looking for salads, you'll find them under 'Unhealthy Stuff'. The Aye Aye Carrot Salad is probably the pick of the bunch: a creamy mix of heirloom carrots, date labne (YUM), carrot top pesto, puffed rice and pickled turnips.
Speaking of beer, Tallboy & Moose are obviously supplying the froths, and they do a bloody good job. There's a rotating mix of nine house beers on tap. Our favourite at the moment? The Les Soeurs Agricole: a barrel-aged fermented saison, sour and weird and tongue-curdlingly good. If your taste runs more generic, go to Tallboy's Cream Ale. Tastes like beer—what more do you want.
Even if the idea of haggis freaks you out, give Wee Man's Kitchen a crack. It's fun, friendly, and a gentle introduction into the wonderful world of Scottish cuisine. Very easy on the hip pocket too (mony a mickle maks a muckle).
Image credit: Annika Kafcaloudis
---
You May Also Like
Food & Drink
Melbourne, VIC
Fans of flavour and seafood feasts, listen up. Louisiana-style Crawfish sensation,…