Whaler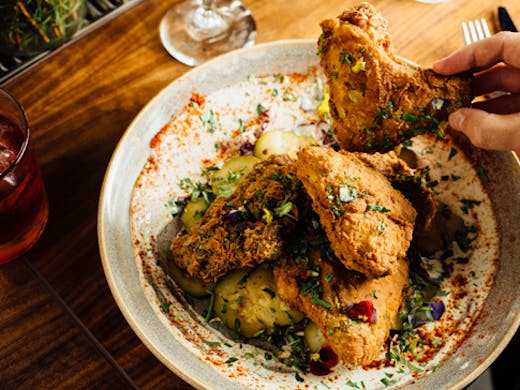 The Verdict
Sometimes you just know that a bar's onto a good thing. The cocktails are on point, there's a savvy chef in the kitchen, and the designer fit-out screams 'Pantone Of The Year 2018'. Well Prahran's new cerulean cocktail bar has all of that and then some.
Melbourne, welcome to Whaler.
The name started as a dorky joke from co-owner Robbie Alexander—the kind of place you can come and have a 'whale of a time'. The original concept was for something slightly more nautical too, until Robbie's business partner, designer Louise Astell, talked him down from the plank. Still, you've got that striking oceanic blue…
"We were a bit shocked when we ordered the paint tubs and opened them up," Louise says. "It is very blue. But somehow it works."
The grungy meets up-market décor isn't the only thing Whaler gets right. Head chef Henry Leigh-Smith is nailing the Southern-style menu. Louisiana grits with creole salt and chipotle mayo, guacamole spiked with peas and pomegranates, even a Yucatan ceviche with charred orange.
Take our advice though—go the 12-hour slow-cooked pork ribs. Pull apart, sticky-glazed pork, served with a stone fruit sauce and fennel slaw. And while we're at it, the smoked and fried chicken wings with blue cheese sauce are also off the chain.
Everything's designed for good company and good drinks. Which is where bartender Callum Davies comes in—he of the tropical shirts and encyclopedic cocktail list. There's currently four house cocktails. Our pick is the Blacker The Berry: Dewar's whisky sloshed with Campari and a housemade blackberry-infused sweet vermouth.
But Callum also has 120+ classic lodged between his ears. Try his take on the Tom Collins (the trick is the grapefruit, really gives it a bitter kick).
At the end of the night, Whaler does feel like a slice of Brunswick St in Prahran. There's a great community atmosphere, DJ booth up front, everyone's eating fried chicken and knocking back whisky cocktails. It's pretty awesome.
And that cerulean is gonna be everywhere by the end of the year. You heard it here first.
Image credit: Annika Kafcaloudis
---
You May Also Like