White Oaks Saloon Bar & Dining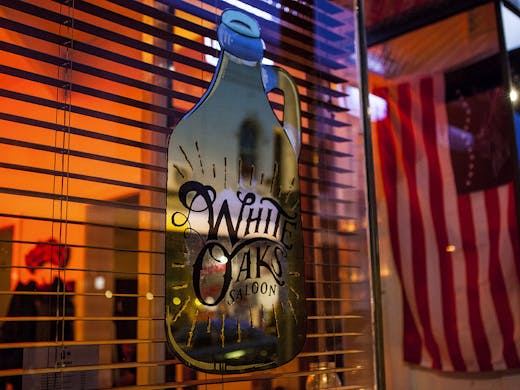 The Verdict
Bringing a taste of Tennesse to town, White Oaks Saloon Bar & Dining is located in the trendy centre of Greville Street, Prahran. Boasting a US-inspired cocktail bar to die for, the menu offers twelve diverse options, celebrating small-batched American spirits sourced from Tennessee.
Served up with Hoshizaki ice and quirky stainless steel straws, this is one of the coolest cocktail bars in Melbourne. We're also loving the Southern-inspired food menu, with Carolina-style pork sliders, spicy cajun chicken tacos, and house-made salted caramel ice-cream.
Lovers of cheap eats in Melbourne are also well-catered to at White Oaks with plenty of killer food and drink specials. We're talking $20 Gumbo & Coors Lager and $15 Titos Vodka Bloody Mary on Mondays; $20 for three Cajun chicken or vegetarian tacos and a Pacifico pilsner beer and $15 Margaritas on Tuesdays; $20 for three Carolina style pork sliders and a Goose Island beer and $15 Westward Whisky Sours on Wednesdays; $20 for Smokey Sausage Jambalaya and a Negra Modelo Beer and $15 Crusoe Spiced Espresso martinis on Thursdays; and $15 Titos Vodka Bloody Mary or Jack Daniels Lynchburg Lemonade and $10 Kona Big Wave Golden Ale on Saturdays.
On Sundays, White Oaks brings out the big guns with their Hospitality Night with $20 for Southern fried chicken and a Blue Moon Wheat Ale and $15 City Amber Gin Negroni cocktail.
So, what are y'all waiting for?
Image credit: supplied
---