Wild Life Bakery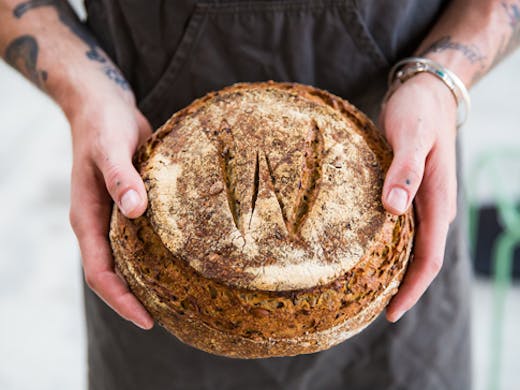 The Verdict
When Huw Murdoch spotted the cavernous warehouse space on Albert St, he knew he'd hit the jackpot. Cathedral ceilings, exposed brick all over the place, with plenty of room for a dedicated bakery, just like he wanted.
The result? Wild Life Bakery: a vegetarian bread shop and toastie bar, inspired by the famous Tartine in San Francisco.
Wild Life has got to have one of the most beautiful spaces we've seen in a long, long time. The fit-out is classic northside, but with a contemporary polish. There's huge porthole-esque windows where you can peer through and watch the sourdough magic taking place, brushed concrete and slate grey tiles, a mix of white and mint green wire chairs dotted about the massive hanger. You could hide the Arc of the Covenant in here...
Murdoch's gnarly, rustic loaves are fermented for 24-hours. He's enlisted the help of head baker Brad Tobin (ex-Wood Frog Bakery), and the pair have begun experimenting with some funky Australian-grown heirloom wheat varieties. You can grab white and seeded loaves, wickedly tangy oat porridge sourdough (inspired by Tartine's original), fresh passionfruit and lemon curd tarts, vegan dark choc cakes, even vegan cream-piped lamingtons, spiked with housemade raspberry jam.
As with a lot of new ventures, the boys have turned to suppliers to fill the gaps. The coffee comes courtesy of Market Lane. Mörk is supplying the hot chocolate (who else?). And the croissants are made in-house using butter from Fitzroy's St David's Dairy.
But the real surprise here are the vegetarian toasties. Beautiful, day-old seeded bread, given a slick of butter, then toasted amber gold. Inside you'll find a variety of animal friendly fillers—think caramelised onion and comté, broadbean, pea and manchego, or spicy kimchi and oozy cheddar. Nice.
Image credit: Jenna Fahey-White
---