Willow Wine Cafe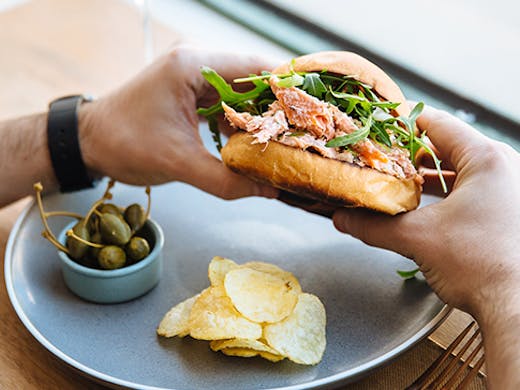 The Verdict
It's your typical Melbourne story. Take a suburban cricket bat factory and turn it into a wine-shop-cum-cafe. Yep, the old Fisher Cricket Bats & Willows on Williamstown Rd no longer sells handcrafted bits of wood—it's now dishing up burrata with beetroot relish and crazy good baked eggs, heavy on the goat's cheese.
Welcome to Willow Wine Cafe.
Some housekeeping first: this place isn't affiliated with Willows & Wine in West Melbourne. That's its own thing. Owner Ellen Turner just called this one Willow Wine Cafe because, you know, willow cricket bats and lots of wine.
And there is a big wine focus. As you walk through the front door, you'll spot racks in the corner, stocked with interesting local bottles. "It's better for the environment to go local," Ellen says. "Why fly bottles from all over the world when there are some great wines in Victoria." You can buy wine to-go, or pop a bottle and have it with brunch (there's just a $10 cover charge).
The glass cake cabinet is stocked with the latest goodies from the Söt by Mörk—a flourless chocolate thing that looks denser than a black hole, homemade muffins and tiny bundt cakes. But you should really save the stomach space, because Willow Wine Cafe does an excellent feed.
The menu is designed to complement the wine. In fact, there's a lot of stuff on there you'd expect at a wine bar: big creamy Burrata sitting on purple beetroot relish, lemony sardines on toasted rye bread, or little nibbles like chilli peanuts and pate de Campagne terrine with cornichons and Dijon mustard.
Personally, we're a fan of the milk bun rolls. $15 gets you a pillowy bun stuffed with hot smoked trout, flaked by hand, and a dill-spiked crème fraiche. Yum.
Considering this was an old cricket bat factory, Ellen's done an amazing job with the fit-out. The dining area is old-school industrial—ancient red bricks, corrugated plastic ceiling, hanging Edison bulbs, and splashes of neon paint. You can almost smell the linseed oil.
Willow Wine is mainly here for brekky and brunch, but it also stays open till 7pm, if you want a cheeky after-work tipple.
Definitely something interesting for the Seddon-Kingsville-Footscray crowd.
Image credit: Helena La Petite
---