Woods Yard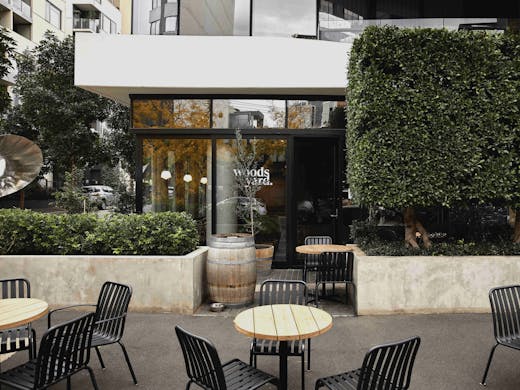 The Verdict
Launching Woods Yard back in 2020—owners and brothers Kris and Aaron Woods have recently re-opened the doors open to their swanky pizza bar in South Melbourne.
The relaxed diner and wine bar on Eastern Road has a casual feel with shelves of wine across the wall and long wooden bench seating. The bottles that line the restaurant aren't just for show, they've each been carefully selected with a heavy focus on natural, biodynamic, and organic wines. "The conditions in which the wine is made, and the process involved in the manufacture, are more important than ever" says co-owner Kris Wood.
The restaurant has no conventional kitchen, meaning the team utilises the pizza oven to tackle many of the menu's dishes including roast chicken, lasagna, and specials such as confit duck. The star of the show here however is the pizza—a journey Aaron Woods ventured to Western Australia to master, perfecting his craft under internationally recognised Pizza champion Theo Kalogeracos.
Using a naturally fermented dough with a 15-year-old starter the pizzas are perfectly balanced and crisped to perfection in the oven. Expect to sample a range of different styles all utilising locally sourced ingredients with simple but inventive combinations like guanciale (cured pig cheek) with chilli honey and mozzarella—or mushroom ragu, with thyme Taleggio cheese.
If all that wasn't enough, during the day the place turns into one of the areas best outlets for brunch with a menu stacked full of favourites and seriously good coffee.
Image credit: Griffin Simm (supplied)
---