Yo-Chi | Hawthorn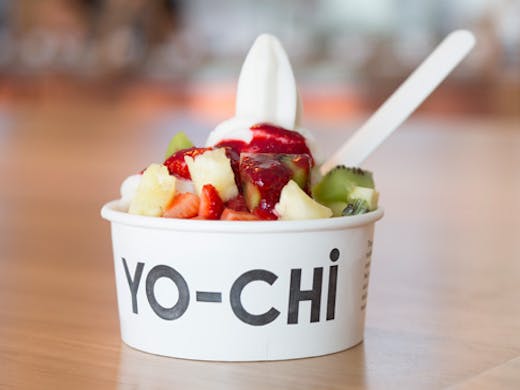 When it comes to frozen yogurt in Melbourne, Yo-Chi is the last word on this city's favourite dessert. The company's Hawthorn emporium serves up fro-yo and smoothies (or Smoochis, as they call them) in over twenty all-natural flavours that can be enjoyed with any number of toppings—fresh fruit, nuts, homemade crumbles, chocolate drops and stewed compotes…the list is endless!
You might recognise the name—Yo-Chi Hawthorn (part of the Troubadour Arcade, Glenferrie Road) is the latest addition to the Yo-Chi family, which now has four stores across Melbourne: Balaclava, Carlton and Urban List favourite, Yarraville.
What's better yet is that every Yo-Chi store (newcomer Hawthorn included) is vegan, gluten-free and dairy-free friendly. Whether you're looking for Melbourne's best vegan desserts or in need of a refreshing vegan smoothie, Yo-Chi Hawthorn's 100% pure coconut milk options have you covered.
It's a DIY affair where customers pay by weight, which means the combination of all-natural frozen yogurt and delicious toppings (including healthy options) is totally up to you. Mix up a low-fat vegan treat if you're feeling angelic, go straight for the Reece's Cups if you're in the mood for a choc-topped feast, or if you can't decide, ask one of the friendly staff to blend you a dairy-free smoothie!
The frozen yogurt flavours vary with the seasons—Yo-Chi's team of in-house chefs are always working on the latest thing—so the best way to keep up to speed with new tasty releases is to follow Yo-Chi on Facebook, Instagram or Twitter. That way, you'll get the latest news straight from the kitchen.
---