Yoga XTC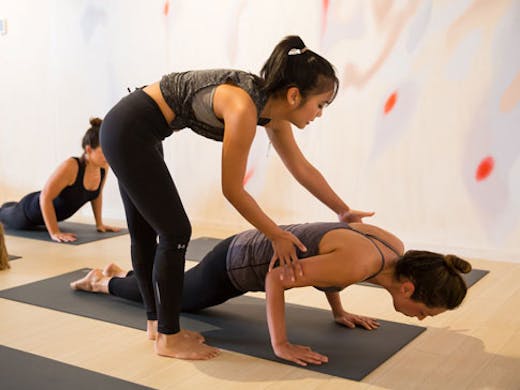 The Verdict
We don't mean to alarm you, but we think we've found Melbourne's most relaxing fitness studio. Yoga XTC in South Yarra is a small, multi-service studio that offers complete health and fitness coaching.
Despite its name, Yoga XTC offers much, much more than just yoga. As for the XTC, we'll leave it up to you to decide whether it stands for 'ecstasy' (um, the natural endorphin kind, obviously!) or for the more technical 'Cross Training Combined' – because either definition perfectly suits this South Yarra gem's ethos.
As far as yoga studios go, this has got to be up there as one of our favourites. Professionally designed, the interior is chic and light filled. It always seems easier to exercise in a really beautiful space - why is that?! Maybe it has something to do with our motivation levels...
The interior designer obviously got the memo about making it 'zen', as everything about the studio whispers calm and peaceful – exactly what you want when you're trying to perfect those vinyasas.
Yoga XTC really goes the extra mile for its clients. With so many fitness options on the market now, it's not really a stretch (excuse the pun) to head along to a studio, do your thang and leave - but unfortunately, you might leave feeling like you didn't achieve much. However, at Yoga XTC, it's a completely different ball game.
For a start, Yoga XTC offers a 'complete package' service: more than just yoga teachers or trainers, the amazing fitness professionals and nutrition coaches here will organise your whole #fitnesslyfe. They will work together with you to create a meal plan according to your lifestyle, likes and dislikes, and you'll also receive a tailored program of fitness training and yoga (and a little bit of meditation, if you like) to suit your fitness goals and lifestyle. In short, Yoga XTC recognises that everyone is different, and therefore no one program is going to suit everyone.
First up, the fitness training classes are small and personalised. You're encouraged to wear a heart rate monitor so that your trainer can tell if they're pushing you that touch to far, or if they can step it up a notch so that you get the most out of your sweat sesh.
The yoga classes are slightly bigger - but fear not, you'll still receive individual attention and guidance. Plus, there are a huge range of membership options available (none of this 'you're locked in for 12 months' business), which range from one-off classes and 2 week intro passes and 21 Day Starter Programs, through to their full service, three month commitment memberships. You can check out all your options here.
For a further sneek-peak into Yoga XTC life, check out their stunning video.
Happy XTC-ing!
Image credit: Jenna Fahey White for The Urban List
---