YOMG | Glen Waverley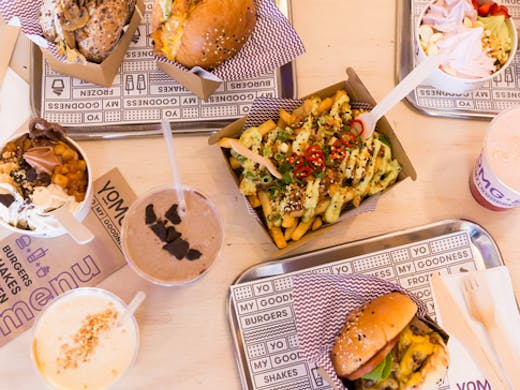 The Verdict
Sitting pretty on the main strip in Glen Waverley, YOMG has become a legitimate destination for serious burger and fries lovers, locals and non-locals alike.
YOMG gives a whole new meaning to the expression 'treat yo self'. As far as truly delicious and quality comfort food goes, the Glen Waverly store is about as good as it gets.
The menu is split in to burgers, fries, shakes and wings, and then there is of course the frozen yogurt bar that includes every topping you could possibly dream of, from the healthy to the decadent.
It's no secret that we're big fans of loaded fries and we struggled to narrow down our selection but eventually the Shang-fry won out. How could it not when perfectly cooked fries come with pulled pork, crispy shallot, toasted sesame, basil mayo, chilli and spring onion?!
The thing that shines through at YOMG is the focus on quality produce—every ingredient that is used is fresh and top quality, which really is noticeable in the flavour.
YOMG is open late, so next time you're in the area and it's nearing midnight and you need an epic fill-me-up, head in, grab a burger and fries and revel in their deliciousness. Actually you can do this at any time of day from 11:00am onwards, you'll always find something perfect to feast on.
Image credit: Jenna Fahey White for The Urban List
---