Yūgen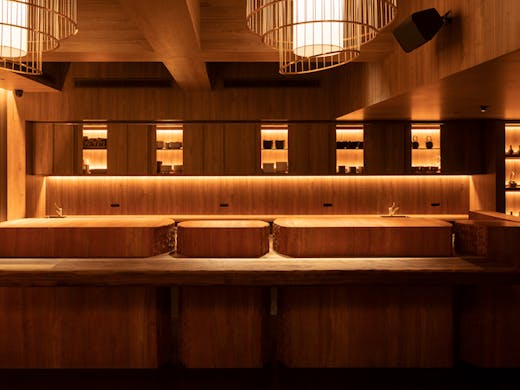 The Verdict
Resting right above the now infamous speciality tea destination Yugen Tea Bar, the South Yarra venue is now welcoming Yūgen, a brand new, two-level eatery with three unique spaces, each one evoking a sense of intimacy mixed with innovation and newness.
On the mezzanine level, there's a private, six-seater Omakase bar, where you're invited to sit back as the chefs and choose a selection of dishes for you, including Kobujime, A5 Wagyu, and Engawa Sushi. Alternatively, if you really want to live it up, there's a private Golden Orb, a dining area suspended from the ceiling.
Accessible only through the glass-walled elevator, diners can also find themselves underground in the 85-seat restaurant an industrious but welcoming space, decked out with warm lighting illuminating 6-metre concrete walls. The design by Architects EAT has an impressive quality to it with intricate lighting features and shelves displaying delicate terracotta vases and teapots adorning the walls.
The idea for the restaurant came about primarily from the vastness and potential of the location. "We really tried to capture the vision of the space," explained Stephen Nairn, culinary director for Yūgen, "how can we turn this into a bit of a destination for people?"
The kitchen is led by head chef Alex Yu (Sokyo) alongside head sushi chef Samuel Chee (Kisumé, Nobu). Both bring diverse backgrounds and cultural upbringings drawing heavy inspiration from where the chefs grew up and what foods excite them.
The menu will feature modern interpretations of modern Asian dishes, be it Jamon and snapper sashimi to a Wagyu beef hotpot with mushroom and spicy Sichuan butter.
"There's a lot of links from your childhood, where you're from and where you've been, how you see things… that's your guiding line and then you build upwards," says Nairn. "Ultimately, we're governed by one thing; is this delicious?"
Yūgen is set to open this October, head over here for updates.
Image credit: Yūgen (supplied)
---