Zero Latency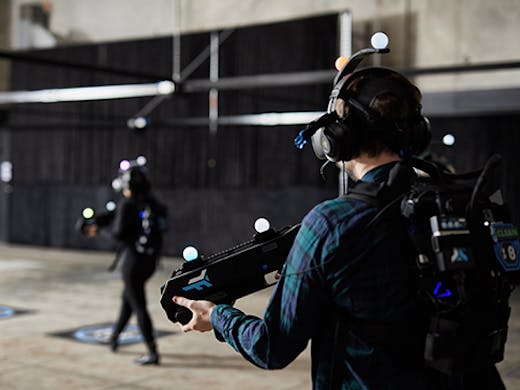 The Verdict
Like all good businesses, Zero Latency was born in a garage. Scott Vandonkelaar's garage actually. Scott and Zero Latency co-founders Tim Ruse, and Kyel Smith wanted to create a virtual experience that went beyond a computer screen.
Judging by the screams inside their North Melbourne game space, it's safe to say they've achieved that goal.
Zero Latency is the latest piece of world-class gaming tech to hit the streets of Melbourne. Erected inside an abandoned warehouse along Steel Street, they use a nifty combination of sensors, audio and VR headsets (aka smart stuff) to immerse you in a free-roam, multiplayer universe (the tech hosts up to eight players at once).
Your body acts as a controller in the game space, giving you the power to walk, talk, see and shoot in each virtual world. We quickly discovered that friendly-fire neither gains or loses you points, but you will see your fellow allies spurt blood. We're not here to judge.
There are currently five experiences on offer, from interstellar horrors to gravity-defying ancient worlds and (of course) sticky zombie survival situations.
"We've had people freak out," says venue manager, Chloe Ho. "The most dramatic I've seen is this one couple, his in-game avatar fell off a bridge, and she just started crying. We have a no running policy, but we have had people who are just like "F*ck this" and run for their lives."
If killing the undead, tiptoeing along the edge of high-rise buildings and pelting grenades sounds like your idea of a quiet Friday night, we recommend the Zombie Outbreak VR. It's the longest experience available in Melbourne, and features hidden weapons (flamethrower, anyone?) along with two levels of difficulty. For the hardcore fans, try Zombie Outbreak Hard Mode – it's wave after wave of killer zombies sprinting at your defensive post.
Don't be a hero, though. Start on standard mode. Being eaten by a zombie isn't as much fun the second time, trust us.
Image credit: Griffin Simm
---