We know it's a tough gig at the moment, not being able to jet off on holiday to a tropical island in the Pacific or do your OE in Europe, but we should count our blessings that we have our own backyard to explore and thankfully she's a beauty.
If like us, you love a summer adventure, then pack up your things, hit the road and get ready for an epic staycation.
But where?
Well, Taupo, of course—a peaceful lakeside town that is home to a plethora of exciting bucket-list activities and rejuvenating outdoor experiences. It really is an adrenaline junkie's playground. From stunning lake views to epic hiking trails and jaw-dropping accommodation, your holiday blues will be cured in no time.
It's a measly 50-minute flight from Auckland, so it would be a crime not to check it out, or if like us you love a summer roadie with pals then the three and half hour drive won't phase you.
Although you'll probably want to set up shop and stay longer, Taupo is the perfect place for a weekend getaway this summer. From relaxing in hot pools to getting your adrenaline fix from one of the many outdoor adventures, here's how you should spend 48 hours in Taupo.
FRIDAY
5pm: You've finished work, you packed the night before and you're ready to either hit the road or catch a ride to the airport. Either way, you're pretty darn excited!
8.30pm: Once you arrive, it's time to check into one of the stunning suites at Hilton Lake Taupo. Located on the Napier-Taupo Highway, this beautiful spot is just minutes away from Taupo's town centre, but contain your adventurous side for now (there is plenty of time for that) and instead indulge in what's on offer at the five-star resort—think swimming pools, tennis courts, a fitness centre and even a jacuzzi. So, relax and settle in.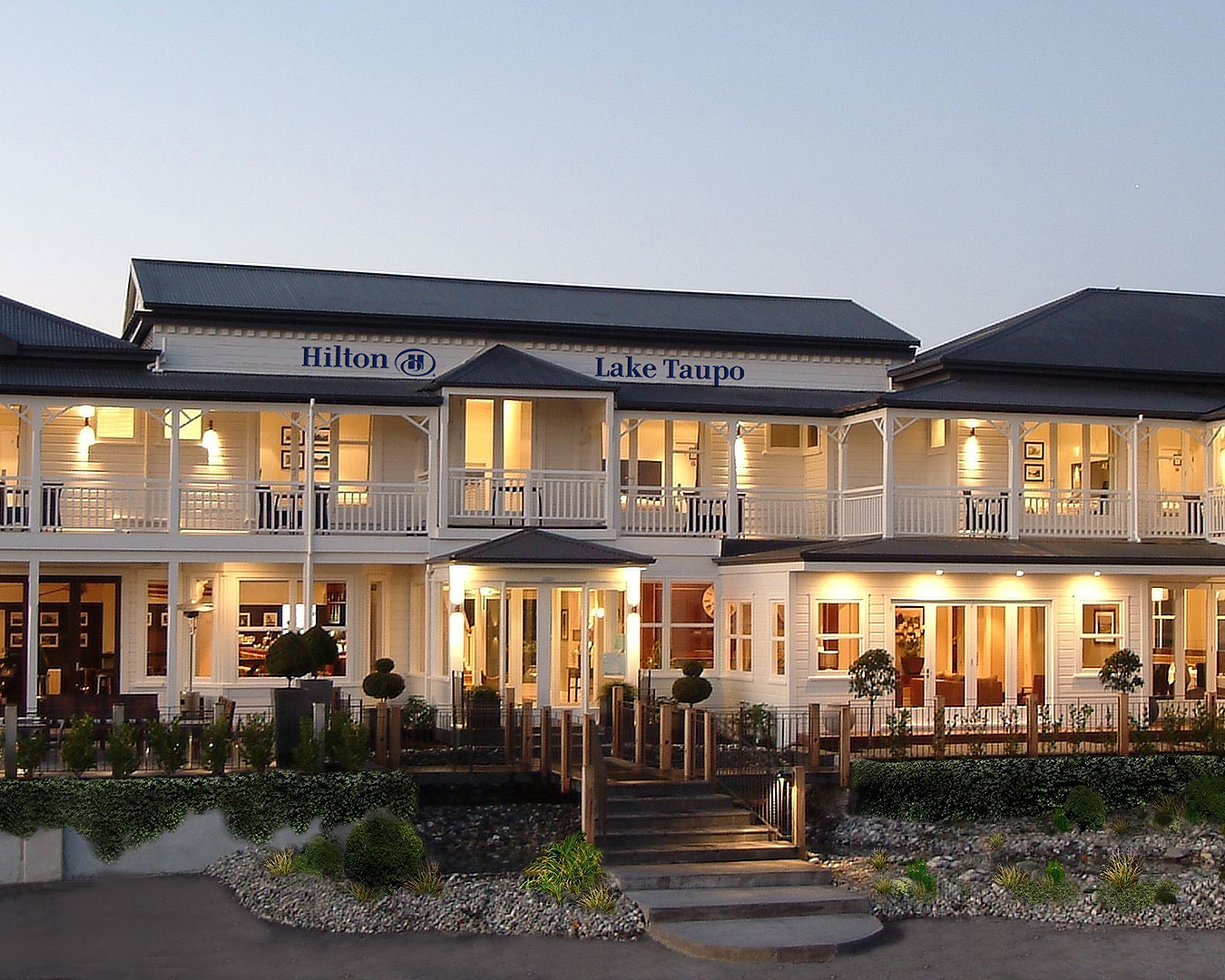 9pm: Now we know the kingsize bed waiting for you in your room may be tempting, but first, how about a bite to eat? Wander downstairs to Bistro Lago, the hotel's exquisite restaurant that dishes up the best local produce and tuck into delicious fare from the bar menu. The salt and pepper squid is the perfect snack, while the classic caesar salad is more substantial.
SATURDAY
7-10am: What's for breakfast we hear you ask? After a morning swim in the hotel pool, or a walk around the grounds admiring the impressive views of the nearby Thermal Valley, head to Bistro Lago for a breakfast of champions. Dig into a continental or buffet-style brekkie with all the trimmings. If you want it, then they've got it, think eggs your way, fresh fruit, breakfast muffins, croissants, cereals and even those cute wee pots of yoghurt filled with granola and fruit. Yum! Be sure to fill up as a day of adventurous shenanigans awaits.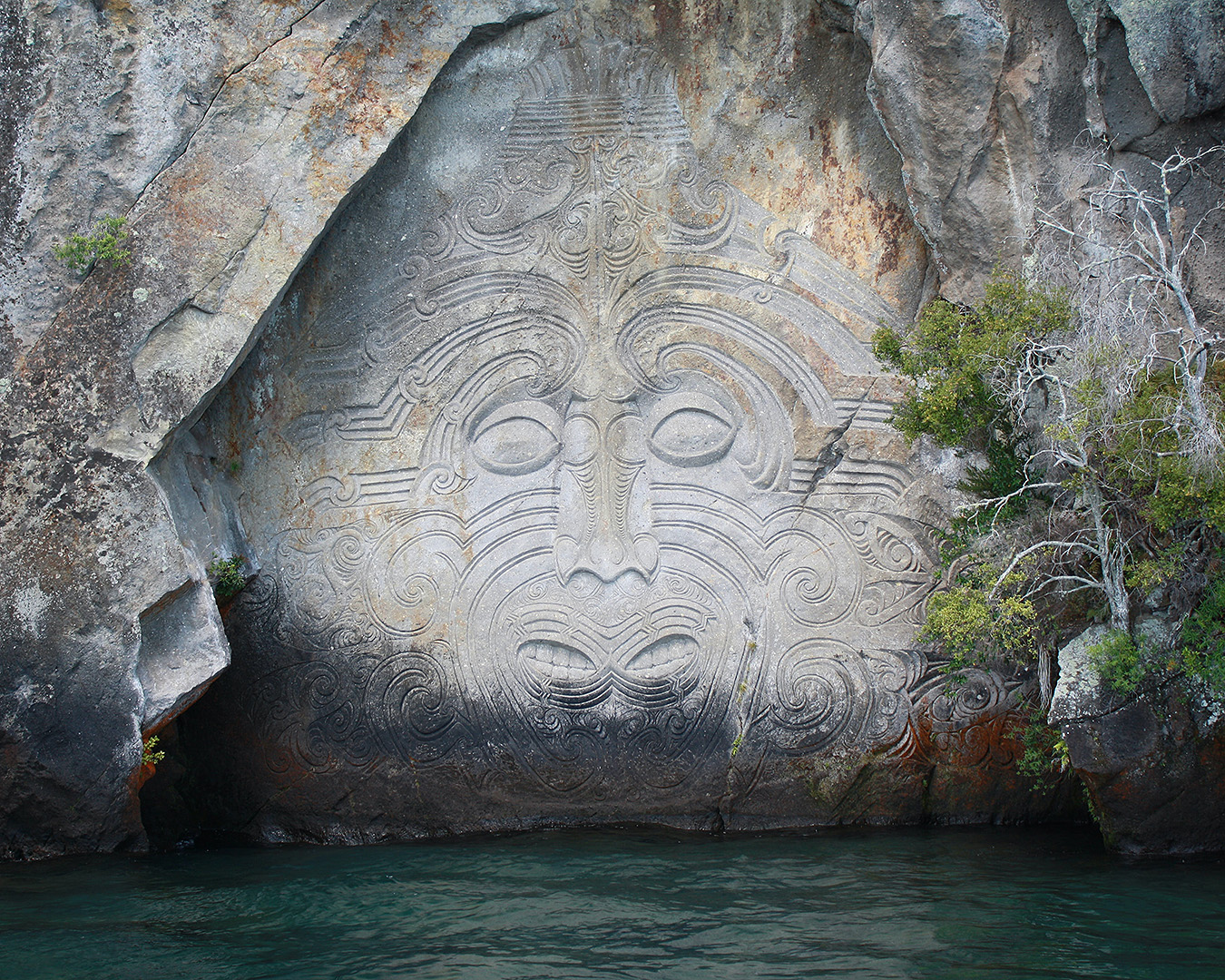 10am: Now that your belly's full, it's time to explore the great outdoors. Hop on board a luxury motorboat courtesy of Chris Jolly Boats and cruise along the picturesque bays of Lake Taupo to the famous Māori Rock Carvings, which stand 14-metres above the lake and took about four years to complete. Take in the epic views of secluded bays and on a summer's day you can even see Tongariro National Park. Sit back with a drink in hand and learn all about the history of the region and find out how the carving became one of the North Island's biggest tourist attractions.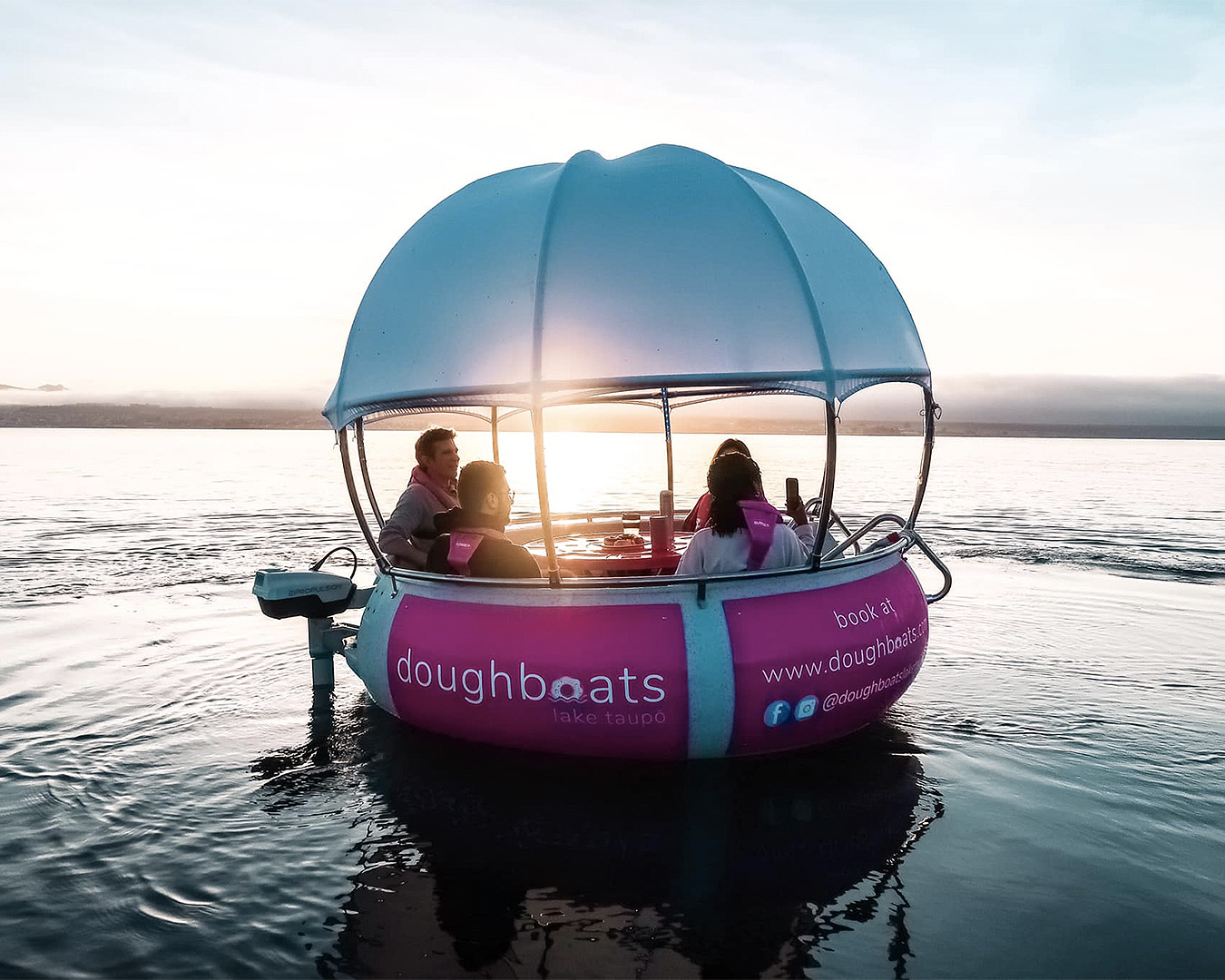 If a motorboat doesn't quite take your fancy, then fear not—Lake Taupo is about the same size as Singapore, so there's plenty of other options to keep you entertained. Why not try your hand at kayaking or if you're feeling fancy-schmancy, pack a picnic and cruise along on a doughboat—an eco-friendly doughnut-shaped boat that'll have you taking in the sights in a unique way.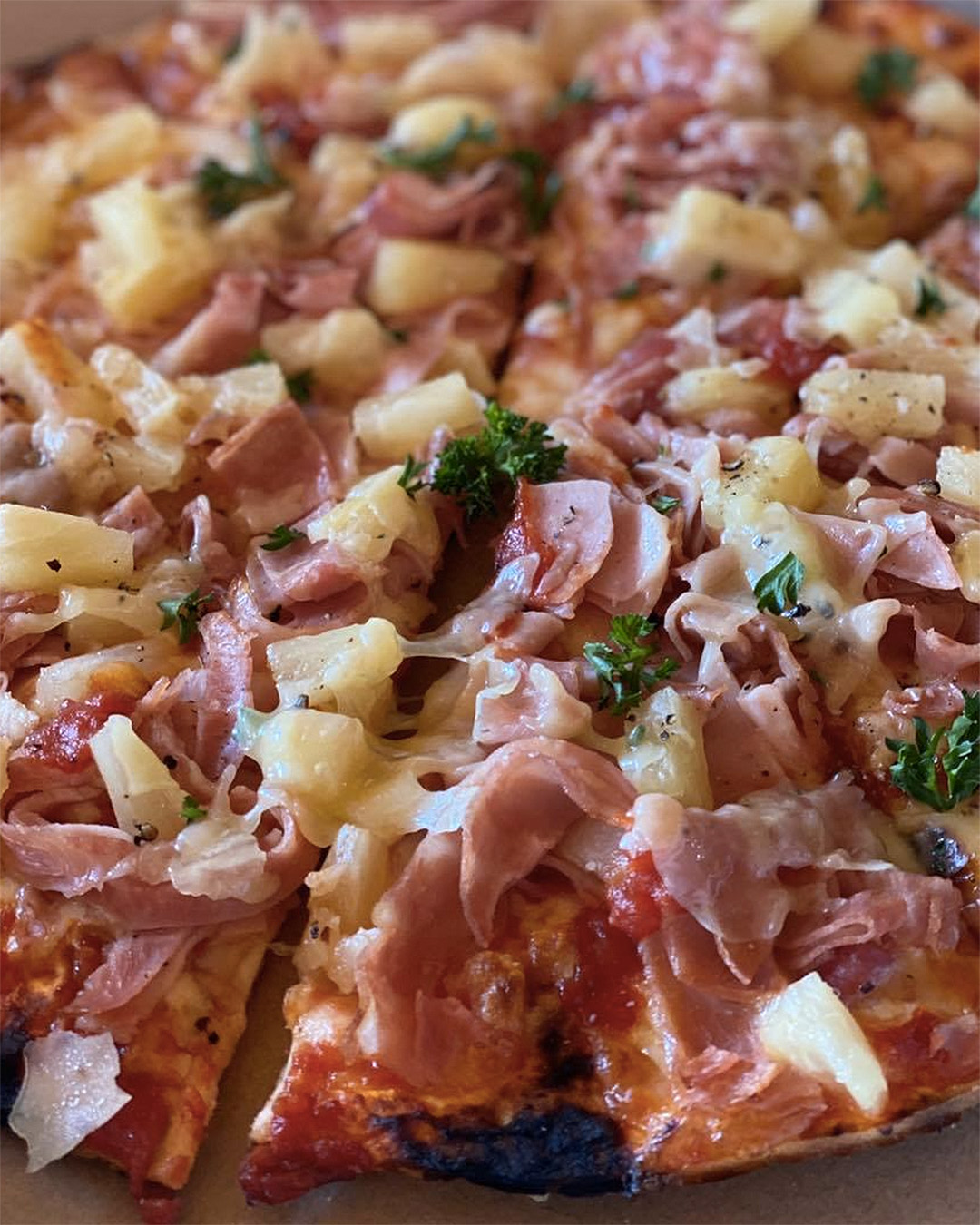 1pm: Kayaking is thirsty work and after all that action on the water, we bet you've worked up an appetite too. Don't worry, we know just the place where you can wet your whistle and chomp down on some delicious grub. Make your way to 2 Mile Bay Sailing Club, where the pizzas are top-notch and the views are equally as amazing. Get amongst the Dooza (ham, chorizo, pepperoni, olives, blue cheese, red onion and mushroom) or tuck into the Smoked Chicky—a tomato and cheese base with smoked chicken, cranberry jam and camembert cheese. Don't mind if we do! Devour your weight in pizza, sip on a Peroni or two all while listening to live music and get this, the first Saturday of every month they even have a dog and grog event so all your pooches can join in the fun too.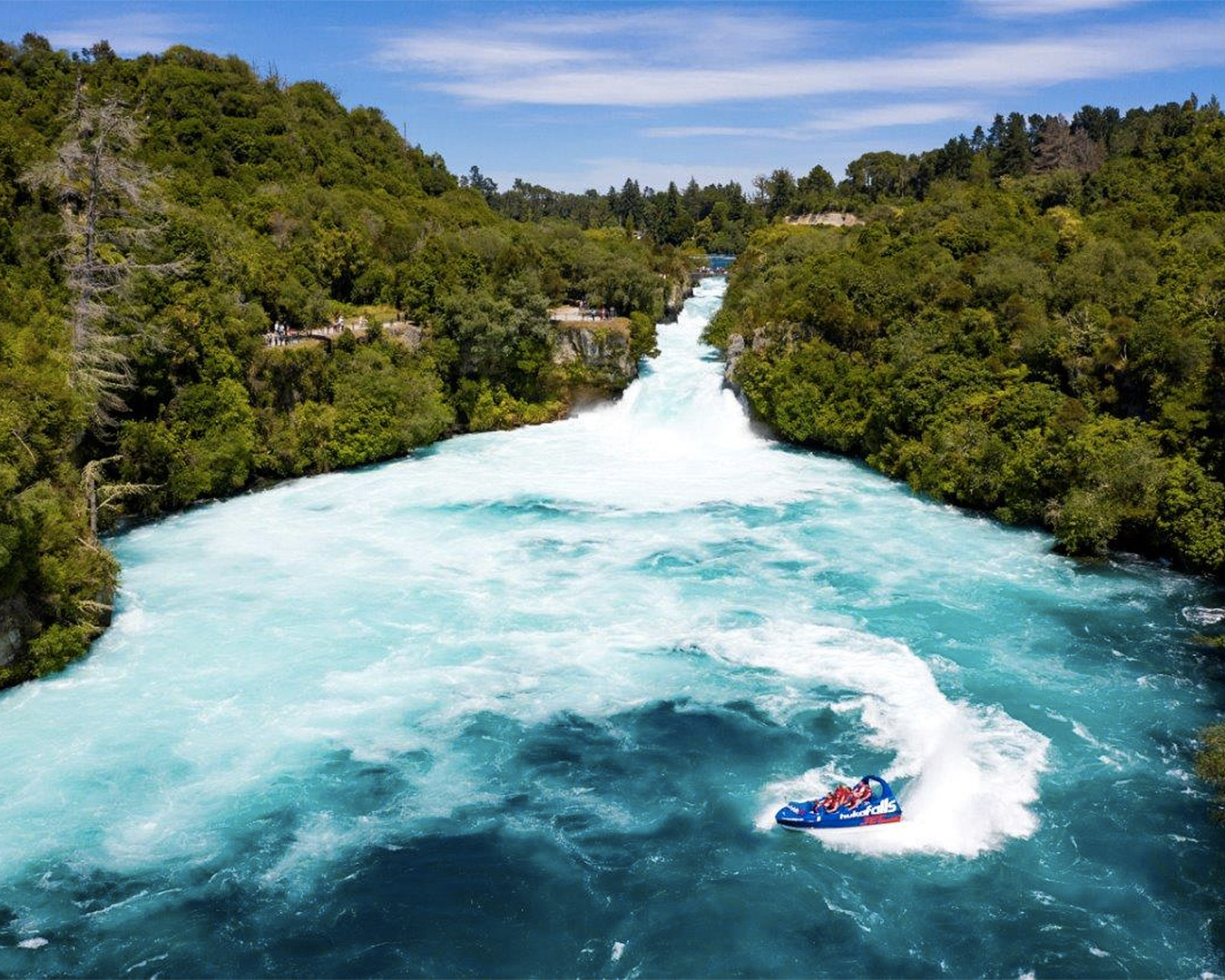 3pm: After letting your pizza settle, it's back to unleashing your inner adrenaline junkie. Hold on tight and grab a lifejacket as you're about to experience Huka Falls from a whole new perspective. Jump aboard the Hukafalls Jet Boat and prepare for an exhilarating ride as you whizz past sheer rock cliffs at 80km an hour, shoot across the falls and experience the 'famous' 360-degree spin—it's definitely not for the faint-hearted. Don't forget your go-pro because trust us you'll want to re-live this again and again.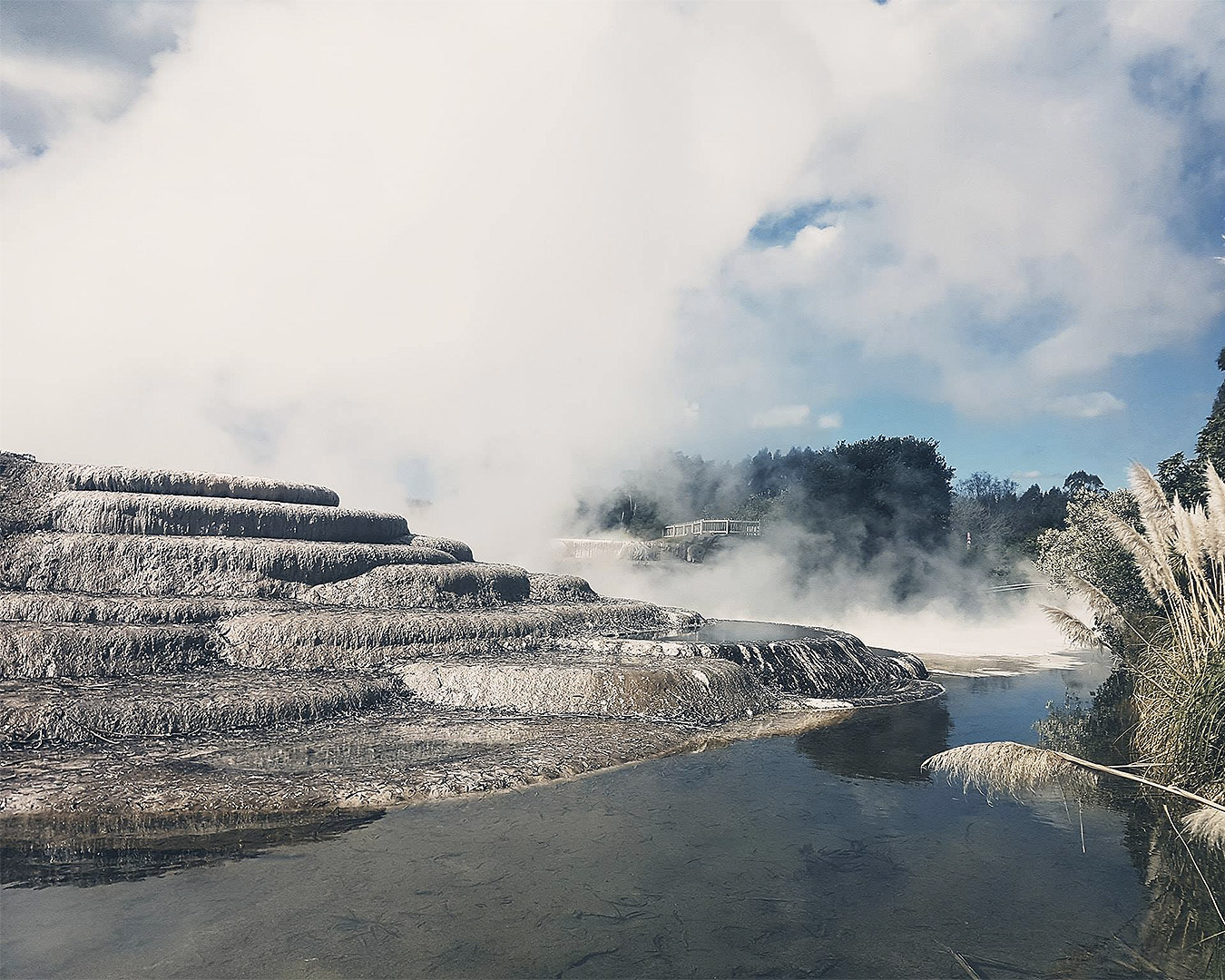 5pm: Annnd relax! It's time to unwind and reflect on your day. Soak up the wonders of the natural hot springs at Wairakei Terraces and let your mind and body recover from an epic afternoon of adventure. The stunning thermal spa offers a variety of pools for you to choose from, all ranging in size and temperature and the best part is it is an adults-only spa so you don't have to worry about splishing and splashing. Unless that's your jam, and if that's the case may we suggest going to Taupo DeBretts, where there is a dedicated water park filled with hydro slides, so you can unleash your inner child.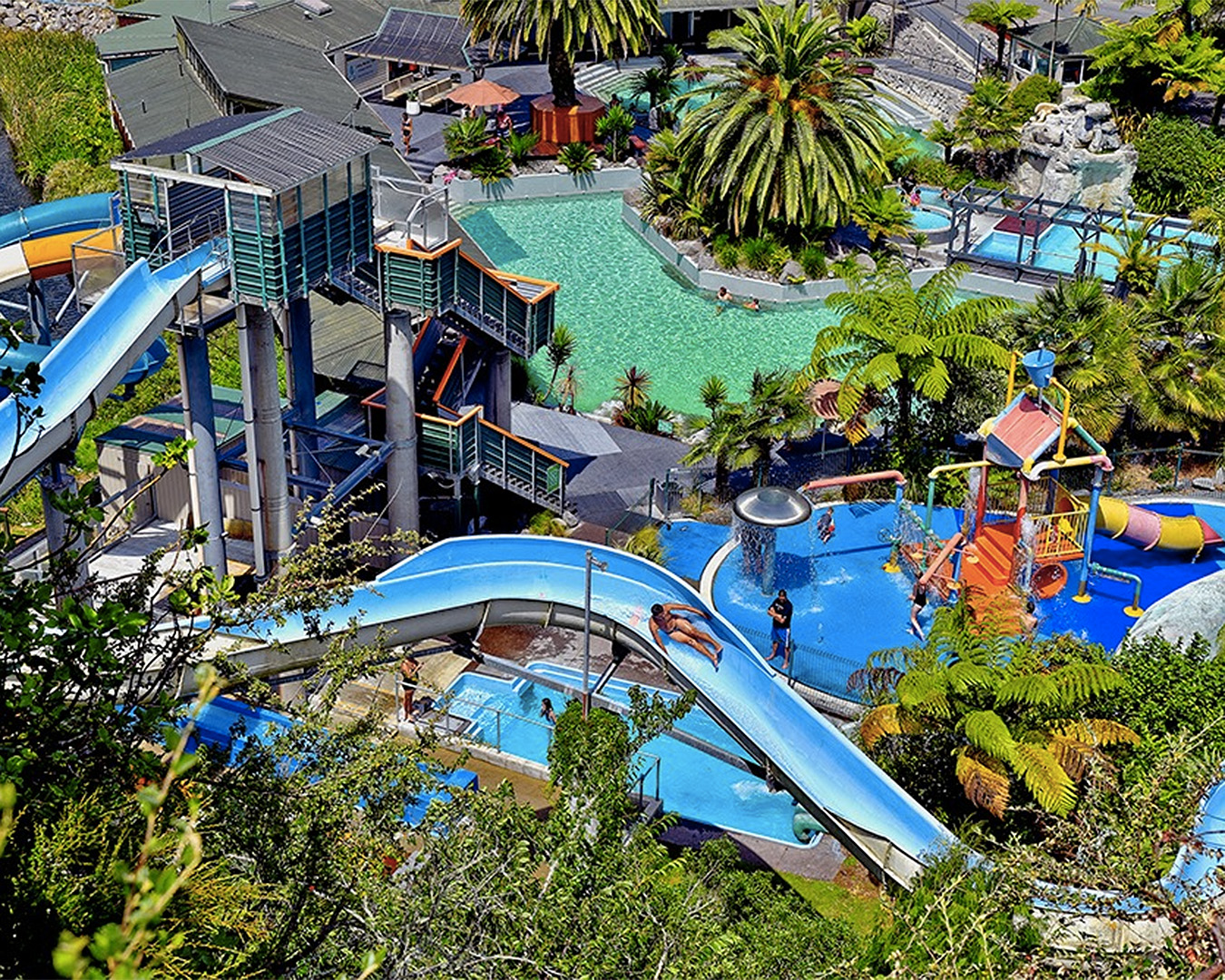 7pm: Relaxed and feeling like a new person, head back to the Hilton Lake Taupo and enjoy a few pre-dinner drinks at the bar, or help yourself to the mini-bar in your room and indulge in a few tipples on your patio before heading back to Bistro Lago for an evening of wining and dining. The scotch fillet is melt in your mouth perfection, pair this with maple glazed carrots and charred broccoli and you've got yourself a hearty meal. Just promise you won't leave without trying the berry creme brulee and finish it off with a port of your choice on the balcony taking in the sweeping views of Lake Taupo. Absolute bliss!
SUNDAY:
8am: After feasting last night, get your sweat on with an energetic gym sesh or challenge your mates to a game of tennis. If that doesn't appeal to you, then kick back and relax in the onsite sauna and jacuzzi before grabbing brekkie from the restaurant or head out to the Taupo Market for a spot of local shopping.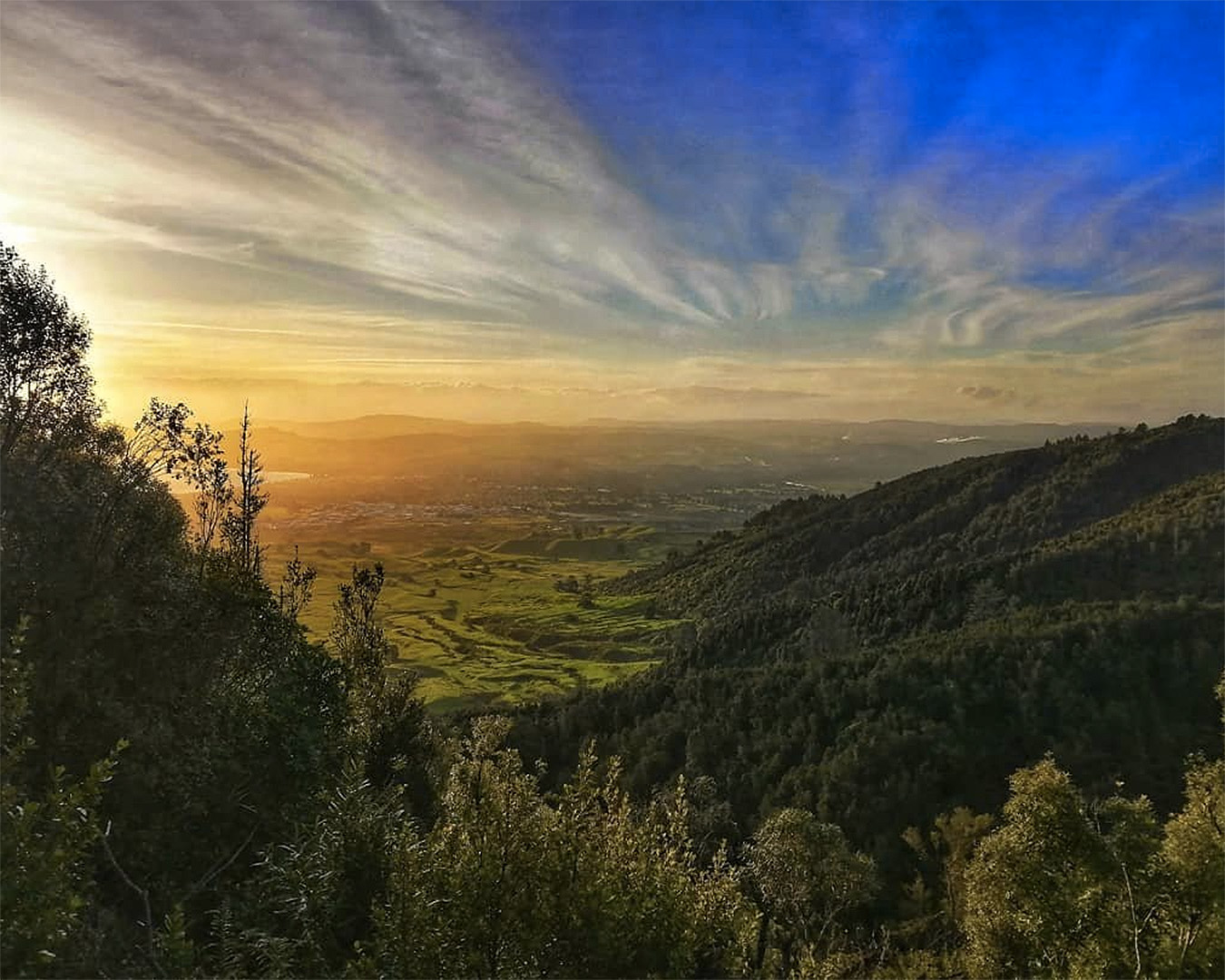 10am: Whip out those hiking boots as there's nothing better than a refreshing Sunday stroll. Take a walk along the lakefront or if you're after more of a challenge then Mount Tauhara is a picturesque haven waiting to be explored. Walk through lush forest and climb 1,088 metres to the summit, which offers panoramic views over Lake Taupo and the central North Island. Trust us, it's worth the climb!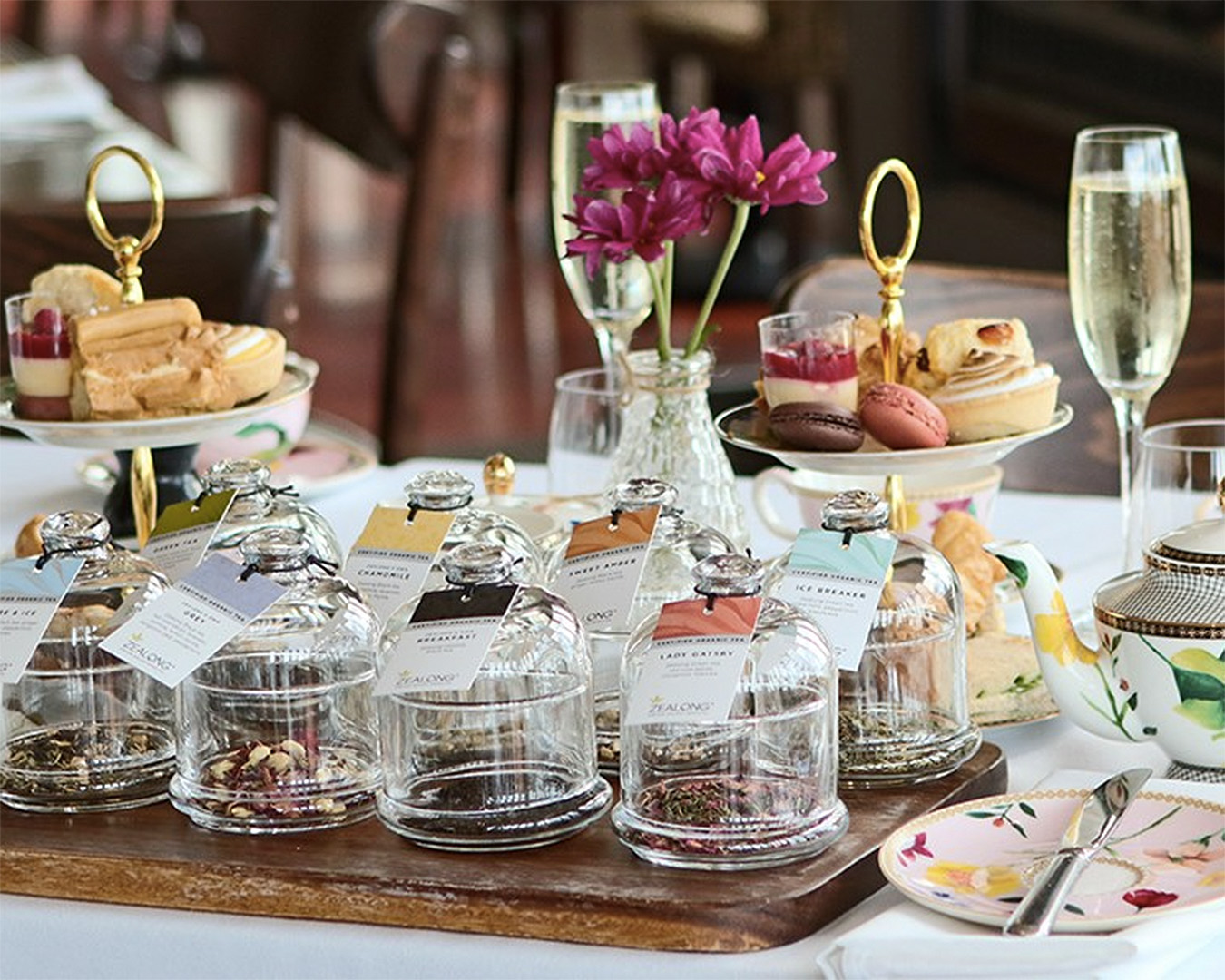 12pm: It's time to wave goodbye to your boudoir as you check out, however, don't leave the hotel just yet as they have one last treat for you— a timeless high tea that includes sweet treats galore. Stuff yourself silly with a variety of scones, French macarons, Whittaker's dark chocolate tartlets, mini cream-filled profiteroles and so much more, after all, it would be rude not to. You could spice things up a little by adding a glass of bubbly or a martini or two, you know one for the road.
3pm: That's a wrap folks! Taupo you've been a blast, but sadly it is time to bid you farewell. 'Til next time, Taupo.
If you did have some extra time on your hands then check out these 8 Stunning Outdoor Adventures You Need To Tick Off In Taupō.
Editor's Note: The author of this article was hosted by Hilton Lake Taupo, but as always, the opinions and recommendations are their own.
Image credit: Peter Unger | Getty Images, Hilton Lake Taupo, Rock carving by Callum Parker, Doughboats, 2 Mile Bay Sailing Club, Hukafalls Jet Boat, Wairakei Terraces, Taupo DeBretts, Mt Tauhara by @topher_the_adventure_nerd, Hilton Lake Taupo