Are you ready to swap the daily grind in favour of a life-changing micro escape? We hear you. Wanderlusters, meet Taupō, an adventure seeker's ultimate playground.
Situated on the shoreline of the stunning Lake Taupō in the central North Island, this peaceful lakeside town is the gateway to a plethora of exciting bucket-list activities and rejuvenating outdoor experiences. From stunning lake views to epic hiking trails and stomach-dropping thrills, here's everything you need to tick off in this picturesque destination.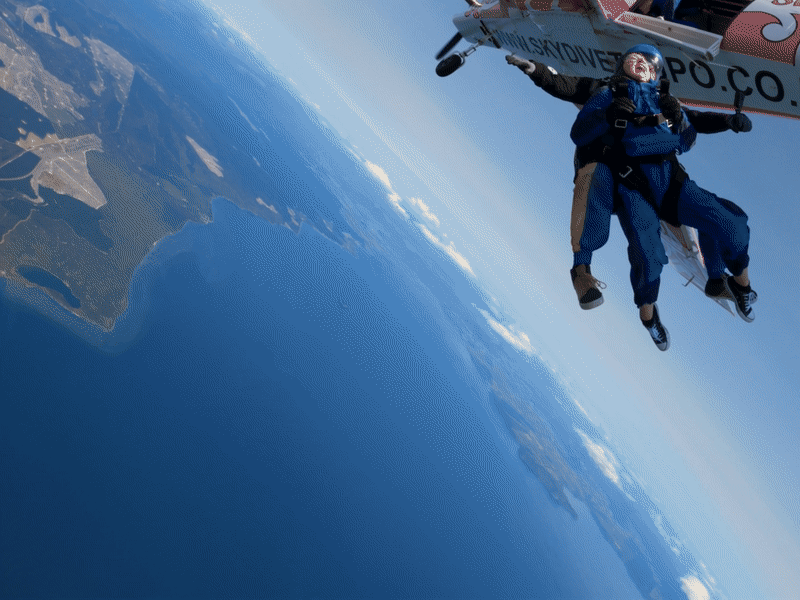 Skydiving at 15,00ft above Lake Taupō captured on the GoPro HERO8 Black.
Score A 360° View By Skydiving
Undoubtedly the best way to see the sights is by jumping out of a plane, obviously. Head straight to Skydive Taupō for this once-in-a-lifetime adventure that we guarantee will be worth every penny. You can choose to jump from the more approachable 12,000ft or 15,000ft, but if you're feeling up to the challenge opt for the big daddy of 18,500ft—it boasts a whopping 75 seconds of free fall. Once you're strapped into your tandem master and have been briefed on all the safety steps, you'll enjoy a scenic twenty-minute flight up to your jump point. Prepare for total wind-tunnel feelings as you launch out of the plane and begin your freefall. The best part about jumping in Taupō is the picture-perfect landscape starring a stunning blue lake, snow-capped mountains and lush greenery. On a clear day, you can even see from the top to the bottom of the North Island, including the magnificent Mount Taranaki. Our advice for an epic jump? Don't forget to look up.
Lace-Up And Hike The Trails
Get up close and personal with nature along some of the many hiking trails around. From leisurely strolls to multi-day treks, this place has it all. Not quite sure where to start? We've got you covered. Head to Huka Falls for a variety of walks and hikes to suit any level. If you just want to catch sight of the falls, make the easy 10-minute walk from the carpark to the lookout. For a bit more adventure, set off from Taupō on the Spa Park to Huka Falls track, an easy two-hour route along the banks of the Waikato River. If you're in it for the long-haul, you can't miss the Tongariro Alpine Crossing, a one-day venture through the UNESCO Dual World Heritage Park offering dramatic landscapes and the stunning Emerald Lakes.
Jump Around At NZ's Highest Bungy
If you're going to willingly jump off a cliff, Taupō Bungy is THE place to tick it off. Not only is it New Zealand's highest water-touch bungy at 47 metres high, but it's also the most beautiful— offering panoramic views over the crystal clear Waikato River. You can do the jump solo or opt for tandem if you need the moral support (we're not judging), and of course, make sure you get the water-touch option—nothing beats a refreshing dip in the Waikato. Should you want to mix things up, try the Cliff Hanger, an extreme swing that jets out across the river at 44 metres high—another great one to do with your best mate.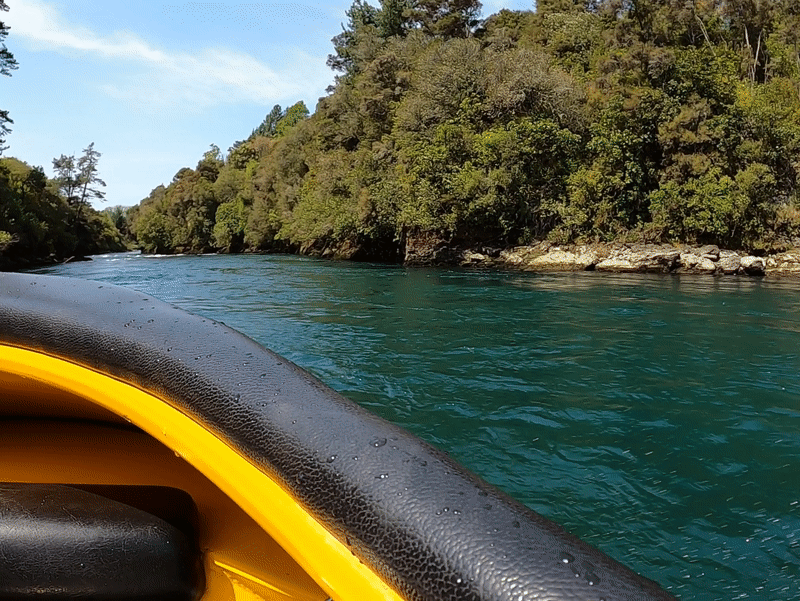 Exploring the Aratiatia Scenic Reserve captured on the GoPro HERO8 Black.
Jet Out Into The Aratiatia Scenic Reserve
Prepare for lush scenery, heart-pumping spins and splashes with Rapids Jet Taupō because we're telling you, this ain't no ordinary boat ride. Shooting through the Aratiatia Scenic Reserve, this jet-boat journey will take you through hidden natural gems along the Waikato River that can only be discovered by boat. Better yet, it's the only white-water jet boating in New Zealand—that's just the definition of thrilling.
Splash Out On The Water
What better way to enjoy one of New Zealand's largest lakes than by getting out on the water. Fun fact, Lake Taupō is roughly the size of Singapore—so you can bet there's heaps to do on it. One of the highlights of hitting the lake is being able to access the Māori Rock Carvings at Mine Bay. Standing 14-metres above the lake, the impressive artwork took four years to sculpt into the rock face by a team of local traditional marae-taught carvers. You can visit this stunning slice of history by kayaking up to the rock or upping it a notch with a scenic eco-friendly sail around the lake on a zero-emissions yacht.
Rafting down the Tongariro River captured on the GoPro HERO8 Black.
Rally The Crew And Raft Down 60 Epic Rapids
Just a scenic 45-minute drive from Taupō you'll find Tongariro River Rafting, an unforgettable half-day white water rafting adventure down one of New Zealand's most beautiful rivers. Boasting 60 roller-coaster rapids, your expert guide will help you navigate the journey with ease as you switch between bracing exhilarating rocky dips and floating along peaceful sections of pristine water. Along the way you'll discover all the river has to offer, from thrilling cliff-jumps to native greenery and if you're lucky, a flock of baby ducklings thanks to the team's conservation efforts through the Blue Duck Project. Paddle and GoPro at the ready, you don't want to miss this one.
Relax In Taupō's Natural Hot Springs
After a day of exhilarating outdoor adventures, an inviting soak in some natural hot springs is the best way to relax and recover. Our personal favourite is Wairakei Terraces, a picturesque adults-only thermal spa that offers several pools situated beneath stunning silica terraces flowing with healing, therapeutic waters. Level-up the relaxation by booking in for a massage or beauty treatment as well—you won't regret it. Should you want something a little closer to nature, you can't go past a peaceful moment in the Otumuheke Stream, where warm geothermal waters, natural rock pools and epic views of the Waikato River make for a pretty memorable soak.
Shred Some Powder In The Winter
Located in the heart of the North Island and a 90-minute drive from Taupō, Mount Ruapehu is the largest active volcano in the country and boasts two ski resorts, more than 65 trails and stunning adventure-filled landscapes. Choose from Whakapapa and Tūroa, two of New Zealand's largest ski resorts. Tūroa is Mt Ruapehu's south-west facing resort, best known for its long and wide trails, while Whakapapa ski area is renowned for its natural half-pipes and dramatic terrain formed by lava. Beginners will also feel comfortable on this side of the mountain on the learner slopes in Happy Valley.
Editor's Note: The author of this article was hosted by Love Taupō and GoPro in Taupō to road test the recently released GoPro HERO8 Black—waterproof, rugged and with incredible stabilisation, it's the only way to capture these next-level adventures. They were also kindly hosted by the Gables Lakefront Motel, a picturesque place to unwind after a day of adrenaline adventures.