Spring is in the air! We can feel it in our fingers, we can feel it in out toes. It's time to get the little tootsies out and celebrate the arrival of the sunshine with some of our favourite sandals for spring.

#1 The Staple Party Sandal
We love this off-white sandal from Dune London (that now has a store in Newmarket), which will be our party pick of the season. With its gold detailing threaded throughout and subtle-Grecian style, we guarantee this will be one that gets worn time and time again.
#2 The Pink Slide
Bring out the inner girl within you with this pair of pink slides from Kathryn Wilson. From Common Projects pink sneakers through to Chloe flats and Miu Miu mules, it's evident that the pink shoe is the colour for the season. For a more affordable and New Zealand designer pair, get your hands on these slides from Kathryn Wilson.
#3 The Coloured Mule
Mules are trending big time this season, and we're certainly not complaining. The low heel means comfort AND cool. We're totally digging this soft purple pair from Seed. If you're into mellow yellow they've got one in that colourway too.
#4 The Wooden Heel
Don't worry friends clogs aren't making their way back into our wardrobes just yet. However, the wooden heel is making a return. Instead of the clunky clog style, this is more of a sleek and simple style, taking inspiration from the mule and adding a twist. We love the little toe detailing on these ones from Mi Piaci.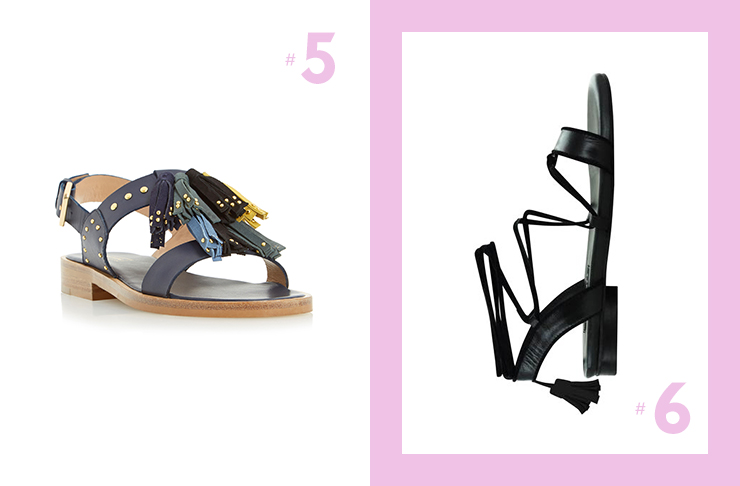 #5 The Lace Up
There's nothing like a good ol' lace up sandal to make you think you're a greek goddess. This black pair from Senso is on the top of our wish list.
#6 The Fancy Tassle
Tassles are a thing right now, and if you want to join in on the phase then invest in this pair from Dune London. They're going to make your feet look very fancy!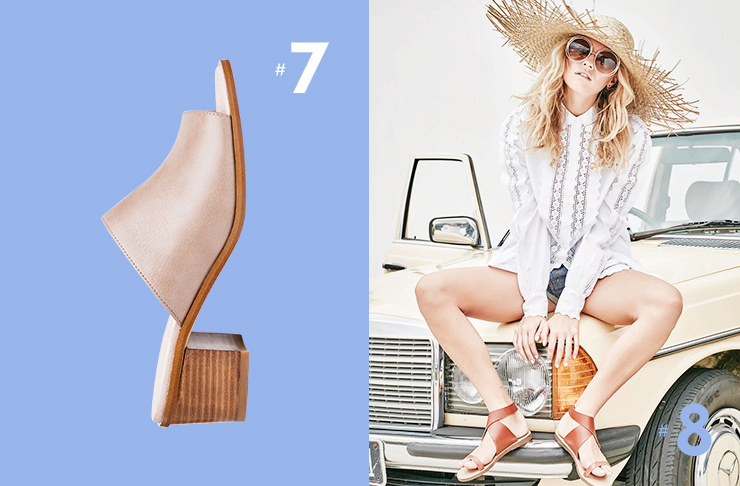 #7 The Nude Heel
An absolute must have in every woman's wardrobe, this nude heel from Merchant 1948 will be the saviour of your outfits this spring. Its low heel means you can last the day without walking like a weirdo and its nude tone makes it easy to pair with your outfits.
#8 The Wrap Around
For something a little different, but still easy to wear, opt for this wrap-around sandal from La Tribe. Take note of styling cues too, wear with a big hat and round sunglasses to be the babe of the season.
Want more? Here's 8 Of the Best: Off the Shoulder Tops.
Image credit: Dune
SaveSave